Turtle names are among the simplest things that matter the most. Names for pet turtles should be well thought off to ensure that they are catchy, and they represent the turtle fully. You should ensure that when you are getting a turtle name for your pet you do it wisely. Choose a name that you will not want to change later. Although turtles are thought to have the smallest memories and names do not matter to them, the name should matter to you. Today I have put up some of the best names that you can name your turtle. The names are catchy, and you will not have to think about getting another name for your turtle later on. 
Getting the names can be an enjoyable activity as you get to try out names after names. It could also be the most frustrating when you try most of the names, and none fits the turtle. There are some techniques I use to ensure I get some of the best names for turtles. 
What Should I Name My Turtle?
Naming your pet turtle should be very simple. Try using some of my techniques to come up with a cool name for your turtle. The first technique is getting some very simple names that are easy to remember. This can be done by using two-syllable names such as Loki and duke. The other technique is using getting ironical with the names. This should be a way to get funny names for your turtle. For example, you can call your turtle lightning or turbo to show how fast he is while, in reality, we know how slow they are. You can also get funny names by making fun of their shells. For instance, you can call your turtle helmet or shellshock or even iron back. Another compelling technique is using the physical traits to name your turtles. For a brightly colored turtle, you can call him or her Rainbow. Now let us look at some of the names that I have prepared for you.
SAVE THIS PIN to your Pinterest Turtle board for later.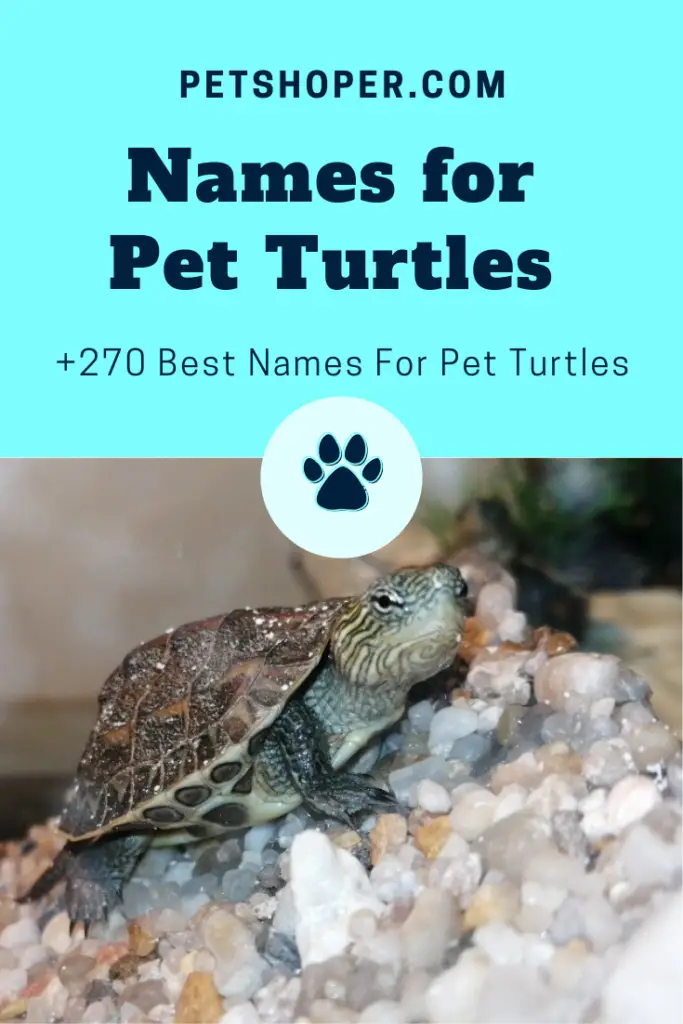 What Are Some Girl Turtle Names?
As we all know, girls love the most beautiful things in the world. You should, therefore, ensure that you get some of the most beautiful names for your girl turtle.
Anna
Ariana
Arya
Ava
Beautiful
Becky
Bella
Bertie
Blonde
Brenda
Cersei
Charlotte
Claws
Cleopatra
Colorful
Dory
Earth
Elana
Ella
Emilia
Emma 
Flipper
Flower
Gina
Happy
Isabella 
Layla
Lillian
Lola
Martha
Max
Maya
Mia
Mortgage
Myrtle
Nova
Olivia
Oprah
Rainbow
Sassy
Sensible
Shelby
Shelley
Sophia
Tabitha
Violet
Xania
Xena
Zoe
What Are Good Names For A Tortoise?
Some of the good names for turtles make use of all the techniques that I have discussed above. Here are more examples of good names for a turtle.
Amaretto
Berlin
Black
Bones
Brown
Carlos
Chad
Charlie
Cody
Cooper
Daniel
David
Daxter
Donna
Elsa
Finn
Fossil
Gallery
Genevieve
Gertrude
Gina
Gold
Green ice
Gucci
Harold
Iron
Iron back
Leticia
Lidia
Lila
Manuel
Martin
Maya
Penelope
Rachel
Rainbow
Ralph
Roger
Shannon
Shell shock
Sonya
Sophie
Ulysses
Wilson
Yassuri
What Are The Ninja Turtle Names? (Ninja Turtles Name Origin)
The ninja turtles are four fictional characters from the movie teenage mutant ninja turtles abbreviated as TNMT. From European history, the four characters are named after well-known Italian artists. The ninja turtles originated form comics published by Mirage Studios. The ninja turtles names include;
Michelangelo: He puts on an orange mask and shows acts of courage while maintaining his funny character.
Leonardo: His color is blue, and he leads his group when the master is not around. For this reason, he shows so much responsibility and courage.
Raphael: Raph uses the red mask. He is the stubborn one and always fight with Leonardo, the eldest. This is due to his rebellious nature.
Donatello: His mask is purple. I would call him the smartest as he uses his skills to master all the ninjutsu techniques. 
From these famous characters, you can get some cool names for your turtles. You can also use their short-form names like Raph, Dona or Donnie, Leo and Mikey
Turtle Names In Finding Nimo
From the animated adventure Finding Nemo, you can get some great names for your pet turtle. The names include:
Crush
Squirt
Mr turtle
It is said that crush's father is Mr turtle, and this, therefore, means that crush's full name is Crush turtle. This is C turtle or sea turtle when shortened. These are some creative names that you can name your turtle.
Sea Turtle Names 
Famous Names For Pet Turtles
Below are some of the famous turtle names. Most of them are characters in outstanding animations or video games. They are suitable for turtle names. The list includes:
Alfie
Baby Shelby
Burt
Cassiopeia
Coco jumbo
Crush
Dog
Donatello
Elvis
Filburt
Fillmore
Franklin
Genbu
Ghido
Howard
Hun
Kappa
Kongwe
Koops
Kurma
Leatherback
Leonardo
Mack
Michelangelo
Minigame
Minn
Morla
Ove
Peekaboo
Raphael
Shelly
Slash
Speed
Speedy
Spotty
Tama-chan
Tank
Terraspin
Tim turtle
Timmy-joe
Toby
Tokka
Toto
Turner
Venus
Verne
Yertle
Funny Names For Pet Turtles
Funny names are great for turtles. You will find yourself laughing once you think about the name. The names include:
Aristurtle
Bob
Bolt
Bulldozer
Cruiser
Donnashello
Dynamite
Flash
Goldie
Hard hat
Hardtop
Hatch
Helmet
Hulk
Legend
Mary shelly
Michelle Obama 
Mishell
Nicodemus
Ninja
Nitro
Pharaoh
Rocky
Sal monella
Scooter
Sheldon
Shell shocker
Shell yeah
Shelly
Shemillia
Sherbert
Shyman
Sluggy
Speedy
stone
Tororo
Tortellini
Turbo
Turtle neck
Turtle recall
Cute Names For Pet Turtles
These cute turtle names can be used for both the male or the female turtle. There is just something beautiful about the names that make them great for your turtle.
Berlin
Birdkeeper
Bob
Bobby
Cake
Cheese
Chester.
Clean
Diamond shell
Ferrari
Gallery
Godzilla
Green soul
Happy
Island
Jackpot
Jose
Kenya
Lambo
Mars
Milo
Moon
Neo
Photo shell
Picasso
Player
Reptile
Roky
Romeo
Ruby
Saint turtle
Santana
Sapphire
Scarlet
Senior
Shaman
Shinigami
Skittles
Sleepy
Slider
Spartan
Sunny
Tokyo
Wonder turtle
Turtle Girl Names
Below are some additional girl names for your queen turtle.
Amelia
Ferah
Haven
Holland
Junes
Livia
Lucy
Maes
Magnolia
Margot
Maui
Moana
Nelly
Oceana
Olive
Orvis
Potter
Purple
Scarlett
Sybil
Terry
Tina
Tubby
Ursula
Vera
Veron
Yanny
Yellow belly
Zoomer
Serious Names For Pet Turtles
Do you think your turtle is always serious? You can check some of these names that are gotten from some prominent people believed to be very serious.
Einstein
Queen Victoria
Napoleon
Abraham Lincoln
King George
Chancellor
Lady bertha
Chester
Sir Lancelot
Poe
Shakespeare
Charlemagne
Voltaire
King Tut
Washington
Mozart
Monet
Picasso
Turtle Names For A Boy
And for your champ turtle, here is an additional list of names.
Addy
Alex
Anakin
Art
Asher
Ayora 
Felix
Forest
Fred
Fungus
Henry
Hills
Horace
Lonnie
Nigella
Oliver
Porter
Scooter
Silas
Simon
Slow poke
Slow-mo
T-bone
Tory
Trixie
Vinnie
Wells
Wolfgang
From all the lists above, I can assure you that you will get a great name for your turtle. These are just some of the names I could think of for now. Names are endless and you can also come up with your name that suits your turtle. Check the best collection of pet names here!