Check out these best and funny bird names!
A lot of people are crazy about pet birds! And are keeping birds like a canary, budgies, cockatiel, and other parrots at home!
Today we are sharing a great list with funny bird names!
Have a look!
TOP 10 Funny Bird Names
Did you know that some parrots like Cockatoo can live about 70 years in captivity? So make sure that you pick your feathery friend's great name!
Larry
Conway Tweety
Marty McFly
Albert Ross
Drew Canary
Feather Fawcett
Godfeather
Dee
Johnny Cage
Sweetie Bird
Crackers
Skywalker
Darkwing Vader
Colonel
Captain Falcon
Funny Names for Birds
Billy
Tiki
Lucky
Tweety
Meryl Cheep
Bubba
Ash
Chick Jagger
Bobo
Spike
Coco
Wave
Sun
Chickie
Pebbles
Moon
Lemonade
Puka
Frankie
Sky
Emerald
Garu
Kiwi
Bubba
Meryl Cheep
Puff Daddy
Chick Jagger
Hootie
Coco
Yakky
Bougie
Sunshine
Peanut
Lucky
Mr. Giggles
Best Funny Bird Names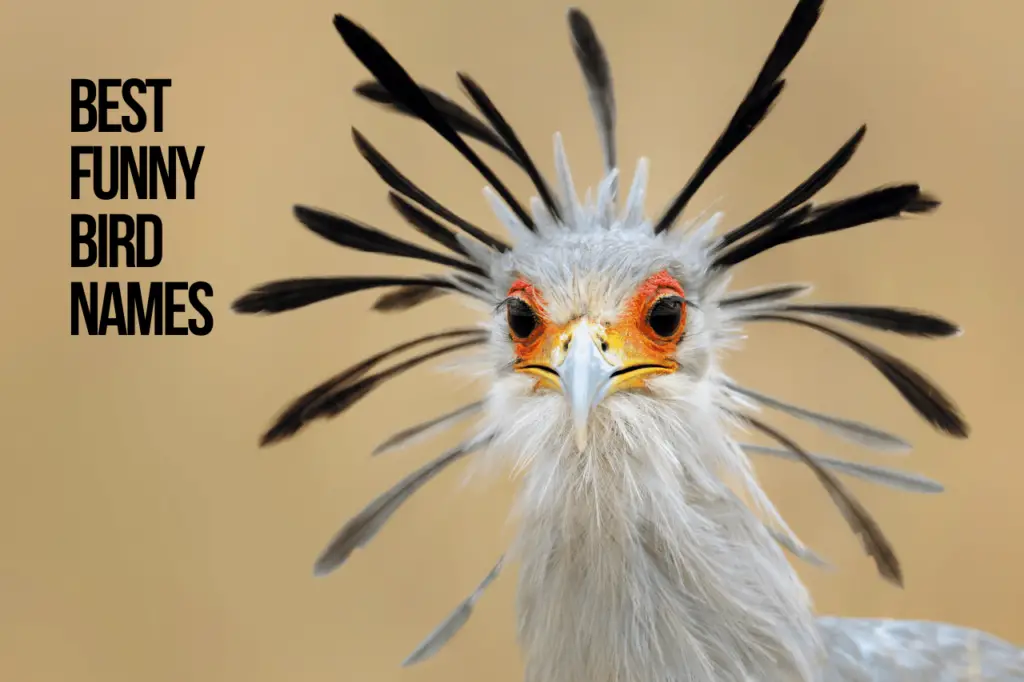 Sunshine
Kiwi
Sunny
Baby Blue
Cloud
Yuki
Zach
Angel
Cotton
Pearl
Cookie
Clover
Kanye Nest
Billy
Bobo
Fruitloop
Rainbow
Unicorn
Mr. Beaks
Sparky
Lemon
Whistler
Speedy
Rio
Big Bird
Iago
Tweetie
Captain Jack
Jack Sparrow
Loki
Tweety
Petrie
Avi
Blumpkin
Petey
Rico
Pretty Bird
Pesto
Professor
Siri
Cute Funny Bird Names
We are sure that birds like parrots deserve cute names. Therefore, below we collected some cute funny parrot names that you may find interesting.
Ocean
Gidget
Gizmo
Yakky
Big BIrd
Hootie
Iago
Pipsqueak
Pappagallo
Oreo
Eggo
Zazu
Biscuit
Gilbert
Bougie
Puff Daddy
Hedwig
Gaia
Elvis
Pollywood
Paradox
Gossiper
Boeing
Loud Mouth
Funny Parrot Names
If you do not have any idea how to name your sweet parrot, check out this list with funny and cute names for parrots. For more names for your new pet look here.
Songbird
Electra
Jinx
Lolita
Jack Sparrow
Zeke
Molly
Hook
Belle
Alex
Faith
Willow
Scallywag
Melody
Matey
Sparky
River
Paulie
10 Top Female Bird Names
Goldie
Sunshine
Coco
Birdie
Zazu
Luna
Skye
Tiki
The great funny name suggestions for Boy Bird!
Hawk
Garu
Frankie
Ash
Gizmo
Hootie
Eggo
Phoenix
Lark
Benny
Spike
Gidget
For more bird names look here:
Save this pin on your bird-related board on Pinterest!