Getting a new pet is always an exciting experience and naming your furry new friend is an important step to complete the process. In case you are a Potterhead, you could use your likes to find a unique name for your pal. The harry potter series, written by J. K. Rowling, narrates the story of a young hero and his friends, teachers, and fellow schoolmates. 
The story takes us to a magical world of witchcraft and wizardry with many different characters and creatures, making it easy for you to find witty and cute names for your pet. Some names from the series are pretty common names like Fred or George, while some are specifically tailored for the magical universe Rowling created. This article provides a myriad of names to pick from if you are determined on a Harry Potter-themed name for your lovely new friend.  
Top 10 Harry Potter Names
Dobby-The house-elf freed by Harry from the Malfoys.

Sirius- Harry's Godfather who has a dog animagus.

Lupin-Harry's Teacher can turn into a werewolf.

Padfoot- Sirius' marauder name

Norbert- Hagrid's pet dragon

Aragog- Hagrid's acromantula

Azkaban- A ruthless prison

Buckbeak-Hagrid's hippogriff

Fang-Hagrid's bloodhound

Scabbers-Ron's mouse
Best Harry Potter Dog Names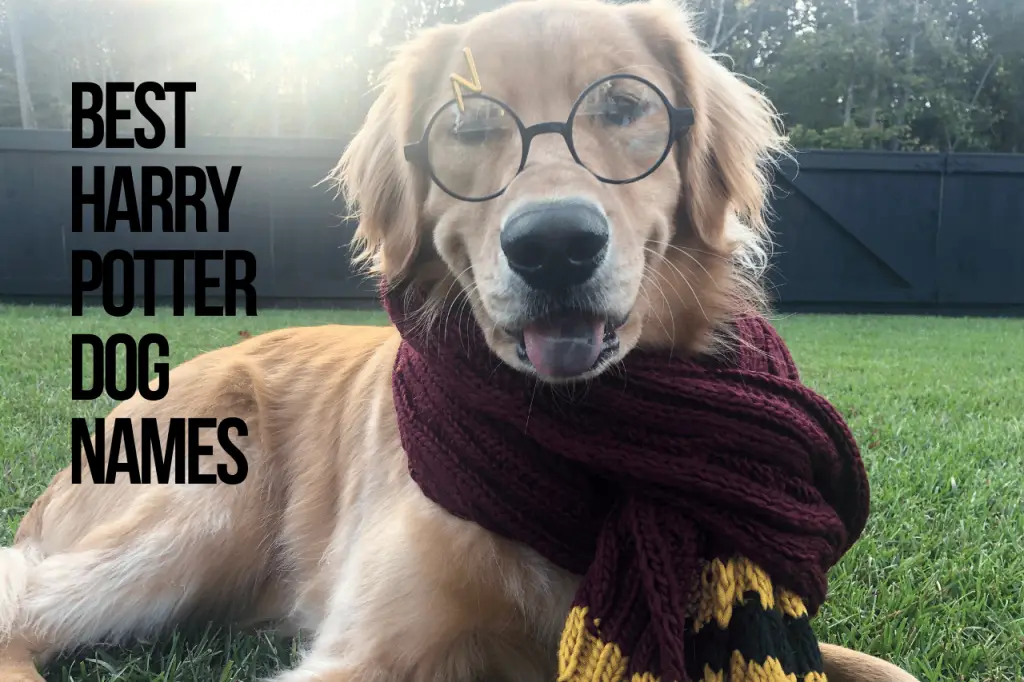 Harry

Potter

Gryffindor-A house in Hogwarts, Harry's house.

Hufflepuff-A house in Hogwarts

Slytherin-A house in Hogwarts, led by Prof. Snape.

Ravenclaw-A house in Hogwarts

Muggle-One born of non-magic parents

Mudblood-An insult on Muggles

Fluffy- The three-headed dog guarding the Philosopher's stone

Fawkes-Dumbledore's phoenix

Dumbledore-The principle of Hogwarts

Pixie- magical trouble makers

Dogwarts-A witful play on Hogwarts

Harry Pooper-As in Harry Potter

Raven paw-Raven Claw

Aberforth-Dumbledore's Brother

Albus- Albus Dumbledore

Alohomora-The unlocking spell

Lumos- The Lighting spell

Serpensortia- The snake spell

Amos- Amos Diggory, Cedric's father

Quidditch- A game played on broomsticks

Dudley- Harry's cousin

Ron- Harry's best friend

Little magic

Hedgewig-Harry's Owl

Diagon- As in Diagon Alley

Fluty

Sanders-Ashley Sanders

Gilderoy- Professor against the Dark arts

Lockhart- Gilderoy Lockhart

Whomping Willow-bizarre tree in Hogwarts

Sir Nicholaus-nearly headless Nick, the ghost

Vera Verto- transfiguration spell

Bagshot

Beedle

Buckbeak- Hagrid's Hippogriff

Black- Sirius Black

Prongs- James Potter's nickname

James- James Potter
Boy Harry Potter Dog Names

Fred-One of the Weasley's 

George-Fred's twin 

Weasley-Ron's Family name

Percy-Ron's Brother

Hagrid-Half giant in service at Hogwarts

Draco-Harry's nemesis

Lucius-Malfoy, ministry of magic

Malfoy-Pure-blood family 

Voldemort-He-who-must-not-be-named

Tom Riddle- Voldemor's real name

Snape-Slytherin 

McGonagall-Gryffindor

Collin-Journalist from Hogwarts

Flint- A member of the Slytherin house

Severus-Snape

Argus-Hogwart's Caretaker

Neville-Longbottom

Rubeus- Rebeus Hagrid

Godric-Gryffindor

Salazar-Slytherin

Bones-Minister of magic

Fox-Dumbledore's Phoenix

Goyle-Ron's friend

Crab-Ron's friend

Gellert

Gideon-A member of the Order of the Phoenix

Gornuk-of Gringotts

Gringot-From the Wizardry bank

Grawp- Hagrid's ha;f-brother from the giant race

Mundungus- a traitor of the order

Fletcher- Mundungus Fletcher

Peverell- from the masters of the hallows

Rufus-minister of magic

Scimgeour-Rufus Scimgeour

Scorpius- Draco's son

Bill- For Bill Weasley




Arther

Filius-Hogwarts charm master

Flitwick- Filius Flitwick
Girl Harry Potter Dog Names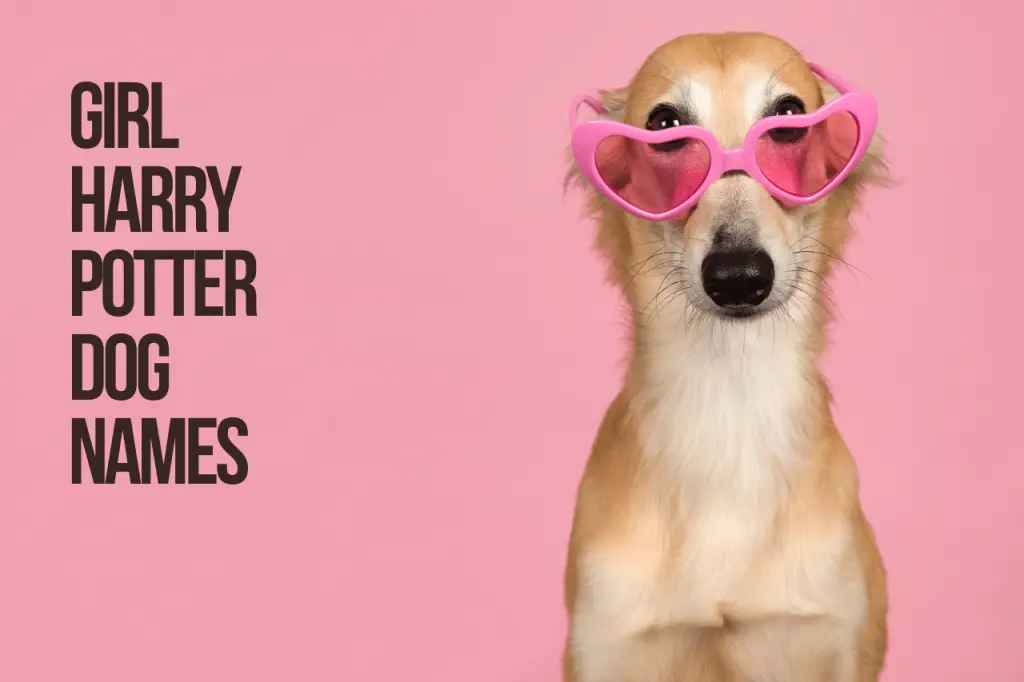 Nagini-Voldemort's Snake

Ginny-Ron's Sister

Hermione

Mrs Norris- Argus's cat

Cho Chang- Harry's crush

Minerva- Head of Gryffindor

Helga-For Helga Hufflepuff

Rowena- For Rowena Ravenclaw

Moaning Martle

Luna-A member of Dumbledore's army

Bellatrix- A female death eater 

Lily-Harry's Mother

Bella-A play on 'Bellatrix'

Rita Skeeter- A reporter at the Quibbler

Andromeda- Bellatrix's Sister

Tonksy-A play on Tonks 

Petunia- Dursley

Poppy Pomfrey

Quibbler-Rita's newspaper

Unicorn

Nymphadora- Tonks

Apolline- Apolline Delacour

Molly-Weasley

Fleur- A quarter veela witch

Narcissa- Draco's mother and Bellatrix's sister

Amelia-Head of magical law enforcement

Hanna-Abbot

Kelpie-Shapeshifter

Bell-Katie Bell

Astoria-Greengrass

Colette-Diggory

Arabella- Arabella Figg

Winky- A house-elf

Genny- Ron's sister

Skreet- A play on Skeeter

Augusta-Neville's grandmother

Ariana
Cute Harry Potter Dog Names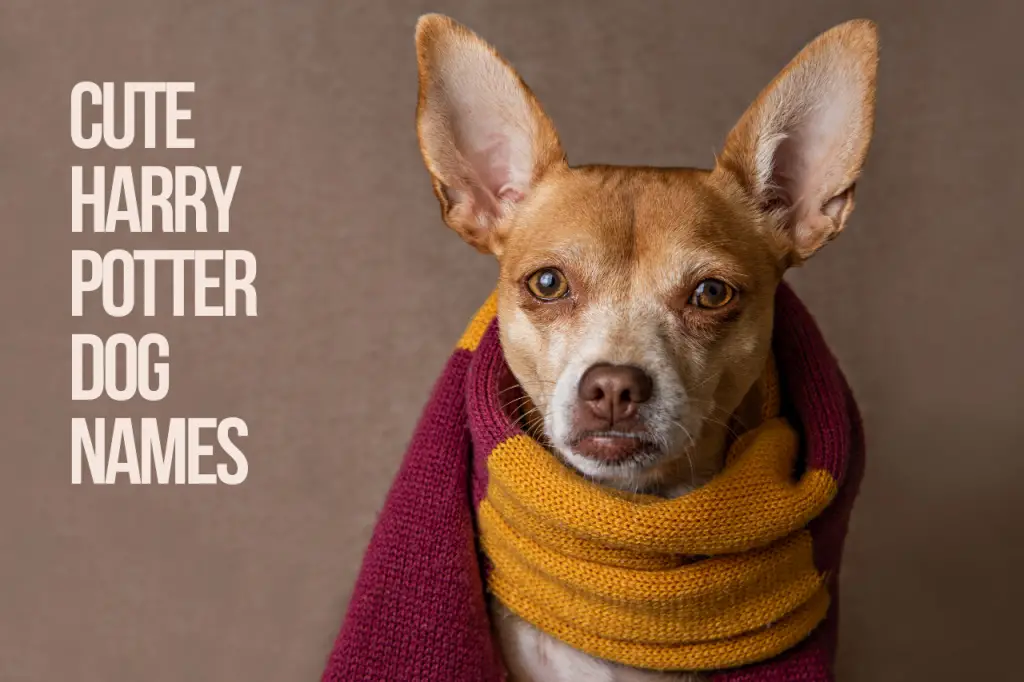 Wand

Mandrake-Plant, Screaming roots

Longbottom

Puddlemere-A professional quidditch team

Pigwidgeon-Ron's owl

Filch

Marvolo-Voldemort's middle name

Dolores-Umbridge 

Sherbert lemon-the spell to Dumbledore's door

Granger-you know, Hermione

Trix- A play on Bellatrix

Tonks- Andromeda Tonks

Remus- Remus Lupin

Beedle-Children's fairytales

Moony

Diggory

Ravenpaw

Sybill-A professor

Triwizard- A Champion's game

Pansy Barkinson

Ruffinydor- A play on Gryffindor

Alecto- Professor of Muggle Studies and a death eater

Antonin- A death Eater

Arabella- Harry's Babysitter

Arithmancy- The study of numerology and prediction of the future

Crookshanks-Hermione's Cat

Figg-Arabella Fig

Griphook-of Gringotts

Hallow- Deathly hallows

Horcrux- Object containing Voldemort's soul

Mad-Eye- An auror

Moody- Mad-eye moody

Slughorn- Potions master at Hogwarts

Victor Krum-International Quidditch player

Yaxley- A death Eater

Mungo- The london wizarding hospital

Monsieur Delacour-Fleur's father

Newt- for Newt Scamader

Nimbus- Broomstick manufacturers

Beauxbaton- An all-female wizarding school

Seeker- A player sport in the Quidditch game

Sybill Trelawney- Hogwarts Divination Professor

Lord- for lord Voldemort

Phlegm- Fleur's nickname

Mr. Tibbles- Half cat, half Kneazle

Mr. Paws- Half cat, Half Kneazle

Confringo- Blasting spell

Lumos- A spell that lights up a wand's tip

Morsmordre- A dark mark spell

Muffliato- Fills surrounding ears with a buzzing noise

Nebulus- Dumbledore's Fog spell

Protego-Shielding spell

Rennervate-Reviving spell

Revelio- A revealing spell

Rictusempra- Tickling spell

Sectumsempra- A spell that gives the victim deep gashes

Sonorus- A spell to magnify one's voice

Tergeo- A spell to removes matter from an object

Bulstrode

Teddy Lupin

Cho

Charity

Hannah

Padma

Poppy

Polly Juice

Merope

Romilda

Millicent

Charity

Bryce

Florean

Alchemist

Broom

Elder wand

Blood hound

Were woof

Centaur

Fairy

Grindylow- A water demon 

Imp

Murtlap

Occamy

Troll

Plimpy

Nundu

Phoenix

Bane

Firenze

Pig

Ronan

Hokey

Rabastan

Oracle

Mystique

Triwiz

Hypno

Victoire

Varvati

Snatcher

Hoax

Phantom

Sorcery

Spook

Hepzibah

Trance

Fire

Witch

Abraxan

Bicorn

Billywig

Green- A dragon species

Hermes- A screech owl

Ironbelly- A dragon species

Bogrod-

Imp- A creature similar to pixies

Kappa- An Asian river dragon

Kelpie- An aquatic horse

Hinkypunk- a smokyone-legged creature

Longhorn- A dragon species

Moke- A shrinking Lizard

Murtlap- A hairless creature

Niffer-A creature that looks like a mole and a platypus

Occany- A snake with wings

Short snout-A dragon species

Snidget-A golden bird

Thestral- A winged skeletal horse

Veela-Semi human

Vipertooth- A dragon species

Zouwa- An elephant sized cat

Shrivelfig

Sleekeazy

Wiggentree

Veritaserum

Wolfsbane

Wormwood

Zacharias

Avenseguim-A spell to find missing objects

Diabolical-A protective spell

Elladora

Leviosa- A levitating spell

Pomona

Papyrus-A spell to repair paper

Relashio- A spell to make one drop anything

Vow- A binding spell that one dies if they break

Surgito- A spell to counteract a love spell




Bloody Baron-House Slytherin's Ghost

Kneazle

Basilisk- Tom Riddle's snake

Fuzzclaw

Tufty

Snowy

Bowtuckle

Chimaera

Chinese Fireball

Dragon

Doxy

Errol

Eurmpent

Demiguise

Cockatrise

Ghoul

Accio

Aconite

Petrificus Totalus

Aguamenti-A water creating spell

Bat Bogey- An evil wings growing spell

Graphorn- A mountain troll

Caterwauling-Loud noise spell

Colloportus-Locking spell

Finestra-Shatter glass spell

Evanesco-Vanishing spell

Imperio-A spell to control people's free will
Dog Names from Harry Potter Actors
Rupert-Ron

Grint

Radcliffe-Harry

Emma-Hermione

Watson

Felton-Draco

Lewis-Neville

Bonnie-Ginny

Evanna-Luna

Pattinson-Cedric

Phelps-Fred

Rankin-Percy

Leung-Cho Chang

Clemence-Fleur

Afshan-Parvati

Hero Tiffin- Tom Riddle

Hugh- Colin Creevy
What name did you choose?
By now you probably have a few names in mind. Picking from such a comprehensive list may be difficult, take your time sorting out the names and pick what speaks to you. You may also consider observing your canine breed's personality to help you land on a name that feels absolutely right. You do not have to do this alone. Get your family or friends to help you name your dog. Some of the names may be a little tricky to pronounce so try getting the names right, especially names inspired by magical spells. 
For more names go here:
Save this pin into your board on Pinterest: