I have been in Hawaii for some time now and I've discovered great Hawaiian Cat Names… Certainly, Hawaii is quite a beautiful country. Most tourists take their vacations to Hawaii. I was also touring until I fell in love with the culture of the people there, the language and even the islands in Hawaii. I just had to extend my stay! However, I hadn't brought my cat with me and I always have a soft spot for cats. So I got a Hawaiian cat to keep me company. After getting a cat, I was now thinking of a name for her. I wanted the name to be Hawaiian so I immediately began the name search. It was quite interesting. I found very beautiful names for female cats, their meanings and even extended to male cat names so that I could name my other cat. Researching on Hawaiian cat names made me learn a lot.
In this article, I will share with you some of the cool Hawaiian female cat names, what they mean and the male cat names as well. Some of the names are cultural and some are modern. Certainly, there are also cat names that represent gods. I find Hawaiian names to be very cute. Keep reading to get a name for your lovely furry friend. These are probably the main reason you are here.
Before you get a name for your Hawaiian cat, would you happen to know how you say cat in Hawaiian? It is very easy. Just say Anu! Anu is the name for a cat in Hawaiian. Let's get into what brought us here.
Hawaiian Cat Names Female
On my research, I found that naming Hawaiian kittens should be thought of very carefully. It is among their culture for those who love cats. Here are some of the female cat names.
Akela – If you consider your cat to be wise, Akela is the name.

Alamea –  Your cat is the truly precious name her Alamea

Alana –  Awakening

Alani – Orange fruit tree

Alaula – Light of daybreak

Aliikai – Queen of the sea

Alika – Truthful

Aolani – Heavenly cloud

Eleu – Agile and lively

Ewalani – Heavenly woman

Haimi –  The seeker

Halia – Fond remembrance

Hanai – Lucky

Hoala – Agitate

Hula – Dance

Iniki – Famous Hawaiian hurricane

Inoki – Devoted

Iokina – God will develop

Iolana – Soaring like a hawk

Ipo – Sweetheart

Kahili – Feather

Kaia – The sea

Kaikala – Sea and the sun

Kaila – Stylish

Kailani – Sea and sky

Kaimana – Man of the sea

Kaiolohia – Calm of the sea

Kalama – The light

Kalani – The sky

Kalea – Bright

Kalei – Beloved

Kalena –  Brightest start

Kaloni – Sky

Kamea – the one and only

Kani – Sound

Kapua – Flower

Keala – Pathway

Kailana – Adored one

Keilani – Glorious Chief

Keona – God's precious gift

Kiele – precious blossom

Kona – Lady

Lahela – Innocent lamb

Laka – Gentle

Laki – Lucky

Lalama – Daring

Lani – Sky

Lanikai – Heavenly sea

Leilani – Royal child

Lilo – Generous one

Lokelani – Red small rose

Lolo – Crazy

Loni – Heaven

Luana – Happy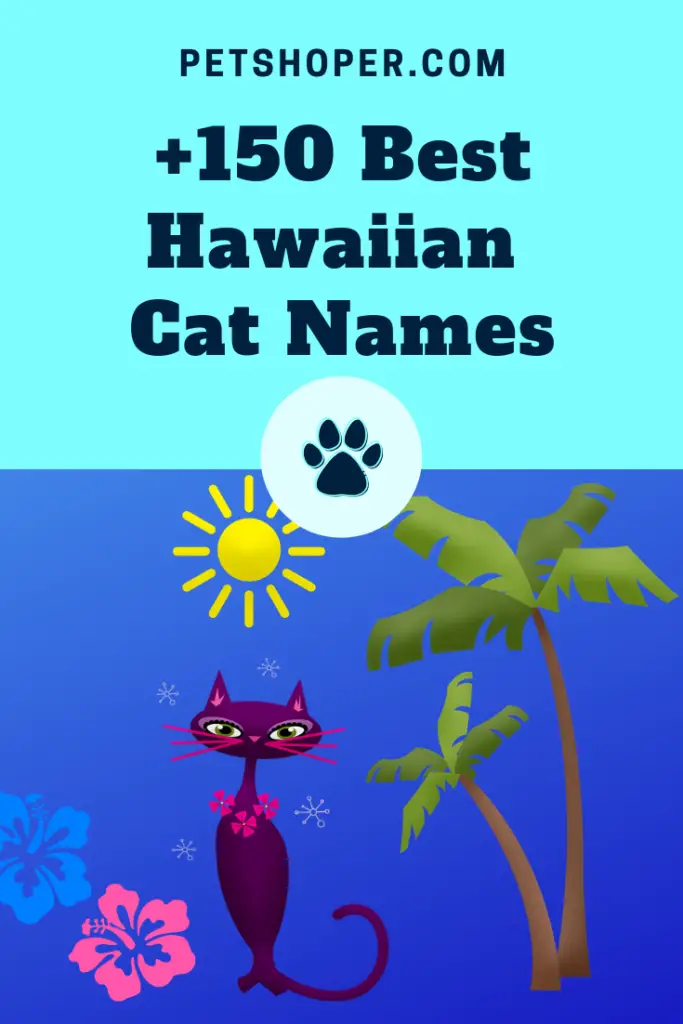 Hawaiian Cat Names Male
Ailani – High chief

Aka – Shadow

Akamu – Red earth

Alemana – Warrior

Amana – Warrior

Amoka – Strong

Anakoni – Valuable

Analu – Manly

Asera – Lucky

Edega – Wealthy

Etana – Strong

Ezera – Help

Hae – to growl

Hiwa – Jet black

Kahoku –  Star

Kaipo – Sweetheart

Kalani – Royalty

Kale – Strong and manly

Kapena –  Captain

Kapono – Goodness

Kealii – The Chief

Keanu – Cool mountain breeze

Kei – Dignified

Keiki – Child, boy

Kekipi  – The Rebel

Kekoa – The brave one

Kekona – Second

Keoki– George in Hawaiian

Kikokiko – Speckles

Kimo – James in Hawaiian

Koa –  Bold and brave

Kolohe – Little rascal

Liko – Bud

Malo – Winner

Mano – Shark

Meka – Eyes

Nahoa – bold and defiant

Nui – Important

Oke – Oscar in Hawaiian

Ole – Fang

Paul – The day is done

Palani – Freeman

Pekelo – Stone

Pilikea – Trouble

Polo – Large and plump

Polupolu – Flabby

Pûkini – Pudding

Waha Nui – This if he's got a big mouth.

Weuweu – If he is fluffy, this is the name
Best Hawaiian Cat Names
We all want the best things. We also try to choose the best names for our pets also. Here is a list of the best Hawaiian traditional cat names. 
Aloha 

Anuenue 

Hoku

Honi 

Kahuna 

Kanaka 

Kane

Keiki 

Kono 

Mahalo 

Makana

Mau Loa 

Nohea 

Ohana 

Paniolo 

Pupule 

Wahine 

Wiwi 
Stay tuned to know what these names actually mean and what they represent
Hawaiian Cat Names With Meaning
Have you ever had the thought that some behaviors are triggered by the names we give to our children or people? Well, this is actually kind of true and this happens even to the pets. You should, therefore, be very keen when looking for a name to give your pet. Before giving a name to your cat, do some research and find out the meaning. But since you are here, I will save the effort of finding the meaning of the names. I have put together a list of names for Hawaiian cats with what they mean or represent. To clarify the list is endless but here are some that I got from my research.
Aloha – this means Hello and goodbye

Anuenue represents a Rainbow

Hoku is a Star. This is traditional but a very catch name.

Honi -Kiss

Kahuna –is the name for a Priest

Kanaka  is the Hawaiian word for Human

Kane means Man

Keiki Child

Kono – If you named him Kono, he is the invited

Mahalo – To be grateful, you can call him Mahalo.

Makana –  Call him a gift if you consider him/ her a gift.

Mau Loa – this Hawaiian word means forever. You probably would not want to lose him so call him Mau Loa for instance and he will be with you forever.

Nohea – This word in English means Handsome

Ohana –  If you are a family guy, this is the name.

Paniolo – Cowboy

Pupule – Crazy

Wahine – Woman

Wiwi – You think he is Skinny, just call him wiwi.

Meli means honey. Who does not love honey?
Top Ten Hawaiian Cat Names
Clap for yourself if you've made it this far. Here is a bonus for you. I have prepared top 10 Hawaiian cat names you wouldn't want to miss.  Kaimi – If your cat is your child, call her/him Kaini. The word stands for a baby. Shaka – Great, catchy name for a cat. It is a friendly gesture for hi, bye and thank you. Hoku –  In English, this is the name for a star. Kelani – This is a spiritual name representing the heavens. Pineki – For traditional names, this is the right choice. Kai – In fact, you will probably call this name over and over when you are rejoicing. Kaipo – You love your cat that much, call her kaipo. It means sweetheart. Maui – if you are into traditions, maui is the god of fire. Cool name for a cat. Kameli – This means honeybee. Who doesn't love honey bee? Kalino – this means the bright one.  How did you find the Hawaiian cat names? Interesting right? My thought exactly. By now am sure you have a very beautiful name for you Hawaiian kitten. If you happen to travel to Hawaii, get a cat and give it one of these names. You will be good to go.