When your dog is extremely anxious hearing loud noises like thunder, trains or fireworks, then you need to read this handy article and create safe space – soundproof dog crate – for your dog.
Soundproof dog crates are little crates for a dog. They are usually made from sound absorbing materials like the acoustic panels.
I came to learn that dogs are very weird creatures. A dog may keep barking or whining just looking at the tv or hearing noises from outside like fireworks, traffic, loud music or lightning.
For this reason, a soundproof dog crate maybe very handy. The good news is there are a lot of ways to soundproof a dogs' crate no matter your budget.
Keep reading to know how to soundproof a dog crate. Also please check out our post on the best shock collars for small dogs.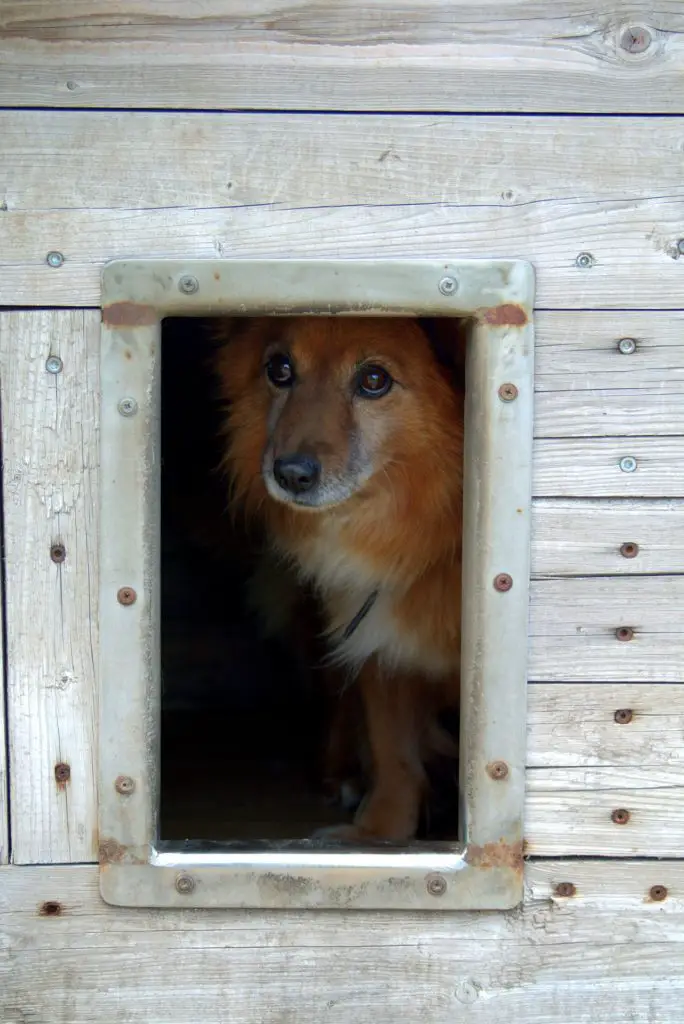 How to Soundproof Dog Crate – Acoustic Panels
I did some research to know acoustic panel work before I used them to soundproof my dog's kennel.
I found out that acoustic panels are construction panels made to absorb sound. Most of them are quite simple to install. They can be mounted semi-permanently or permanently. These panels prevent the vibrations or sound from passing through.
Acoustic panels can be used to cover the sidewalls, ceiling and even a dogs crate for barking. That way your house becomes soundproof like a studio. This is quite important as the dog's bark will not be heard by your neighbors and the dog won't be frightened by thunderstorms.
The highest level of sound absorption can be achieved through fabric-wrapped fiberglass panels that offer excellent noise control.
Cover Your Dog Crate With Acoustic Foam Panels
There are different techniques you can use to cover a dogs crate with acoustic panels. Wondering which technique to use? I will take you through the method I find more efficient. Here is a list of what you'll need:
Crate, measuring tape, acoustic panels- make sure they are enough, binder clips and scissors.
Begin by measuring all the sides of the crate.
Cut the panels to size using the scissors.
Use the binder clips to attach the panel to the crate.
Soundproofing a dog crate is the easier way out to reduce noises that may frighten your dog. Although it is the easier way out, it is a temporary solution.
Affordable Solution: Moving Blankets
Some dogs respond noisily to loud sounds. This is quite irritating sometimes. Would you happen to be in this situation and you have no money at the moment?
I handled that situation some time ago. It was a rainy season and my dog kept barking. This raised some concern even to the neighbors. I definitely had to do something.
I considered moving blankets. They are not like ordinary blankets in your home. The moving blankets have a padded construction and are constructed in layers. The outer layer is made from soft fabric while the inner layer is made of a thin layer of padding.
I soundproofed the crate with the moving blankets and it surely worked. Although it was not as good as a dogs' crate made from acoustic panels.
If you need a soundproof crate for your dog and you are on a budget, this is the way to go.
Soundproofing An Entire Room For Your Dog
Soundproofing the entire room can be another option. It is better though a bit expensive. To soundproof the entire room, you will need carpeting, soundproof curtains, and acoustic panels.
Carpeting
For the floor and ceiling, can be soundproofed the same as the walls. You can cover the floor with soundproofing mats and install the carpets on top.
The carpets help to minimize the issue. You wouldn't need carpets if there is no house below you.
Soundproofing Curtains
This can alternatively be replaced by thick blankets although it is not as effective. In addition, you can spend a little money and purchase heavy sound curtains instead. With this, you can assure the sound absorption. Further, having thick walls is also an added advantage.
Acoustic Panels
Acoustic panels will always work. You can mount it on the walls as well as the ceiling. It will reduce the echoes and noises from outside. Moreover, the barking levels will also be minimized.
Conclusion
Soundproof dog crates are quite useful if you own a dog. Dogs get anxious and frightened by loud noises like storms. Get your dog a soundproof crate and he will sleep through it all.