Are you stuck on finding the best and cool names for your dog? As an appreciation for your dog's loyalty, you can reward him with a good name. I have prepared 160+ flower names for dogs. You can choose one that suits your dog and give it to your dog. Dogs are among the most common human companions. They serve so many purposes such as being watchdogs, being protective, loyal, fun, obedient, and much more. To most dog owners, the relationship with their dogs is not just about having a pet. They have friends who will never abandon them. Dogs will do absolutely anything that is required of them.
For this reason, you must ensure that your dog is happy and healthy. You can do this by getting them the good things like toys, collars and not forgetting the right names. In this article, we shall be looking at some of the best flower names for dogs.
How do you choose a good flower name for your dog? 
Well, the easiest way to come up with a name for your dog is to consider the character traits of your dog. Get the name of a flower that can adequately represent the trait.  Another way is to find the meaning of the flower. Flowers carry so much weight in their names. They can be used effectively as dog names. I will explain much more in the body of this post so stay tuned.
After getting a dog, the first thing you should do is get the right name for him or her. You should keep in mind that the name you choose will be used for all the days you will spend with him. You should, therefore, get a name that has some meaning. Some people will prefer common names. Others will want unique names while others will want a name that is inspired by something. Let us have a look at most of the flower names that can suit your dog. Some of these names are from common flowers, others from unique ones and others that are inspired by the flowers.
Flower Dog Names Female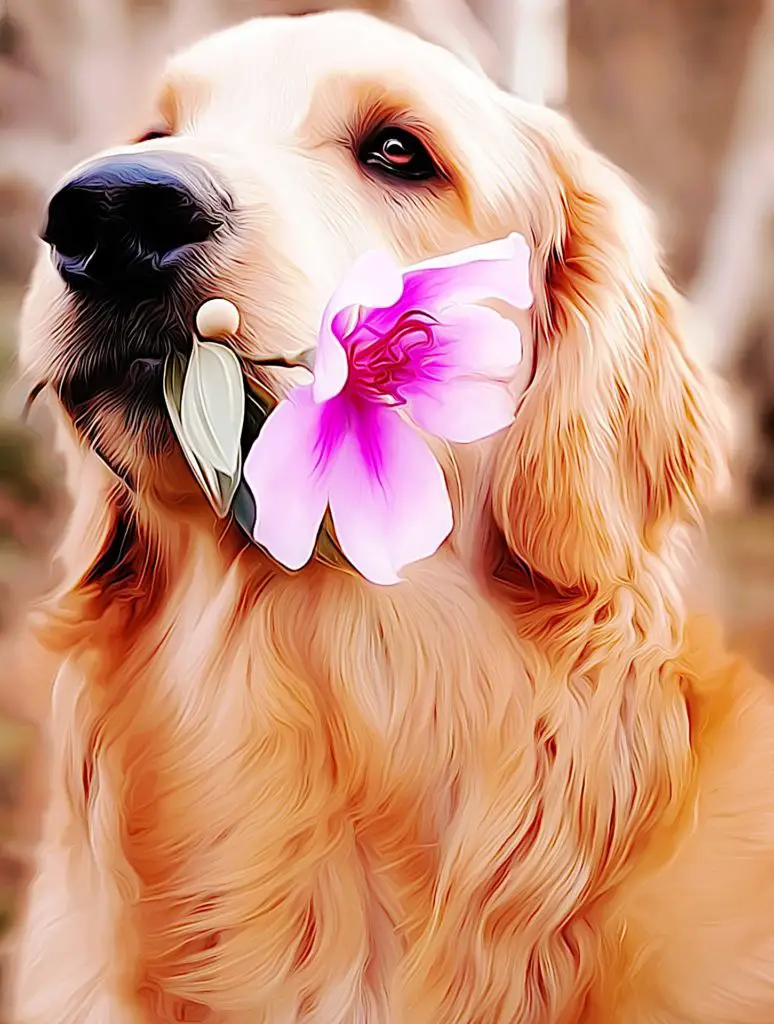 As we can all agree, female dogs should get beautiful names to represent their gender. Their names should get more attention, unlike the male dogs.
Daffodil or daffy- is a cute female name. Daffodil is a flower with bright yellow or white petals. They stand out in the garden and can be used as a unique name for your dog to stand out in a pack.
Chrysanthemum- This is a big name but can be used in short as Chrisie. The flower is bright and blooms in different colors. It could be white, green, red, orange, purple, pink, and yellow.
Dahlia- This is good for the dogs with striking colors just as the flower's structures petals strike. They are mostly purple.
Freesia- this flower stands out when it comes to the fragrance.
Iris- in Greek the word iris means rainbow. This name is perfect as the family blooms in different colors. This is a good name for a female dog.
Sweet pea- This name is cute by itself. Their petals are bright but delicate. It can be used for female dogs that are petite.
Zinnia- This flower has an appearance of the daisy flowers and comes in many different colors. It is a unique name for female dogs.
Other names include:
Acacia

Abelia

Afra

Apricot

Azarin

Beech

Blue

carnation

Cedar

Cherise

Fern

Fiorenza

Gazania

Jade

Luna

Opal

Orion

Patience

Periwinkle

Quince

Yew

Zara
Flower Dog Names Male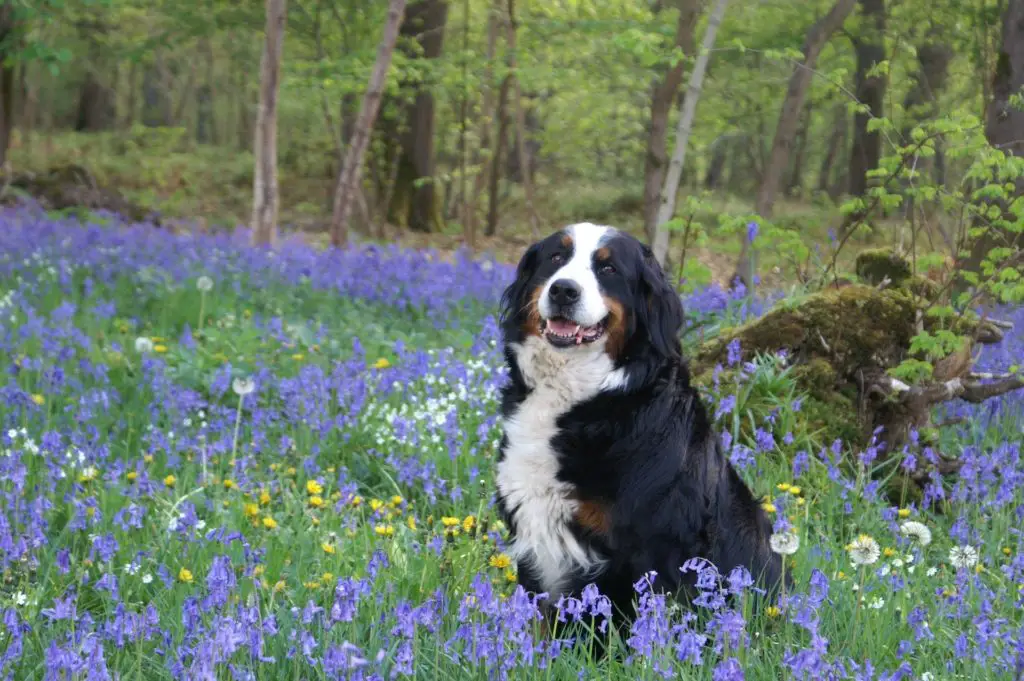 Even though the female names get more attention, you should not neglect your male dog. That's why I have put down a list of good flower names for your dog. The names include:
Myrtle- this is a white flower with petals that resemble the star
Cosmos- this is a flower from the family of sunflowers.
Gardenia- these are cream-colored flowers with a sweet fragrance. It can make a good name for both male and female dogs.
Poppy- This is a unique name that is easy to catch. Poppy has bright red flowers that are very attractive
Sage- this flower is blue and blossoms in the spring
Ginger- this comes from a ginger plant that has bright red flowers. It is mostly used as a spice in foods but can also make the right name for your dog.
Billy buttons- is also known as Craspedia. It is a flower that is used mostly for decorations, and flower arrangements. They are bright yellow, which makes them stand out. It's a good flower name for a dog. You can use Billy or buttons in short.
Other names include:
Alder

Aspen

Babuk

Birch

Blackberry

Booker

Botan

Bud

Burke

Garland

Gooseberry

Gul

Hollyhock

Mallow

Mandrake

Miki

Pimpernel

Posey

Tiger-lily

Truffle

Verbena

Yasaman
Cute Flower Dog Names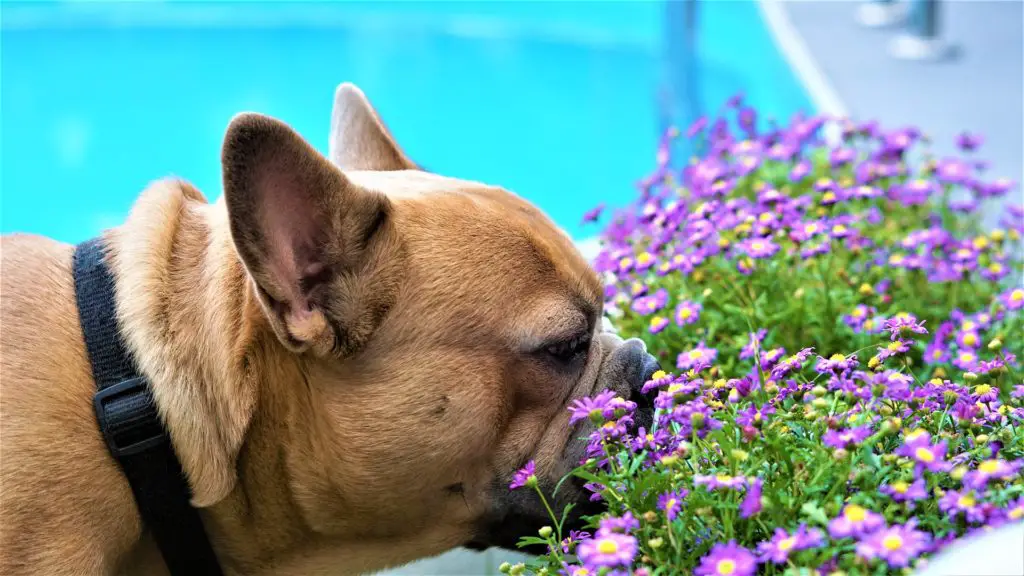 Here is a list of the cute dog names that come from a flower. Most of these names get some inspiration from a flower.
Belle

Bonica

Carrie

Celosia

Chloe

Cleome

Comfrey

Coral

Cory

CoryDalis

Daphne

Diamond

Diascia

Fennel

Fiona

Flora

Fuschia

Gaura

Gemma

Ghita

Juniper

Kaffir

Karen Blixen

Lantana

Lily

Peace

Penny lane

Peony

Petal

Pippin

Rache

Rain

Senna

Shasta

Shirly

Simone

Tracey

Verbena

Vinca

Viola

 Virginia

Wedelia

Wisteria

Zenobia
White Flower Names For Dogs
Great dog names inspired by white flowers!
Iris
Jasmine
Lily
Petunia
Poppy
Rose
Snowdrop
Rose
Calla
Orchid
Tulips
Daisy
Daff
Vinca
Dahlia
Tree And Flower Dog Names
Nature has so much impact on living things. Nature is beautiful as the canine friend you have. Below are some dog names inspired by the flora.
Acorn

Ash

Aster

Barley

Bean

Berry

Castor

Cedar

Chestnut

Chives

Clover

Cosmos

Cypress

Daisy

Fern

Ginger

Hazel

Hosta

Ivy

Jack in the Pulpit. Or jack in short

Laurel

Maple

Morning glory- short forms- glory, Gloria

Nutmeg

Olive

Peaches

Pumpkin

Rose

Rosie from primrose

Sea holly

Shooting star

Spruce

Sunflower or just sunny

Susie- black-eyed Susan in full

Thistle
Popular Flower Dog Names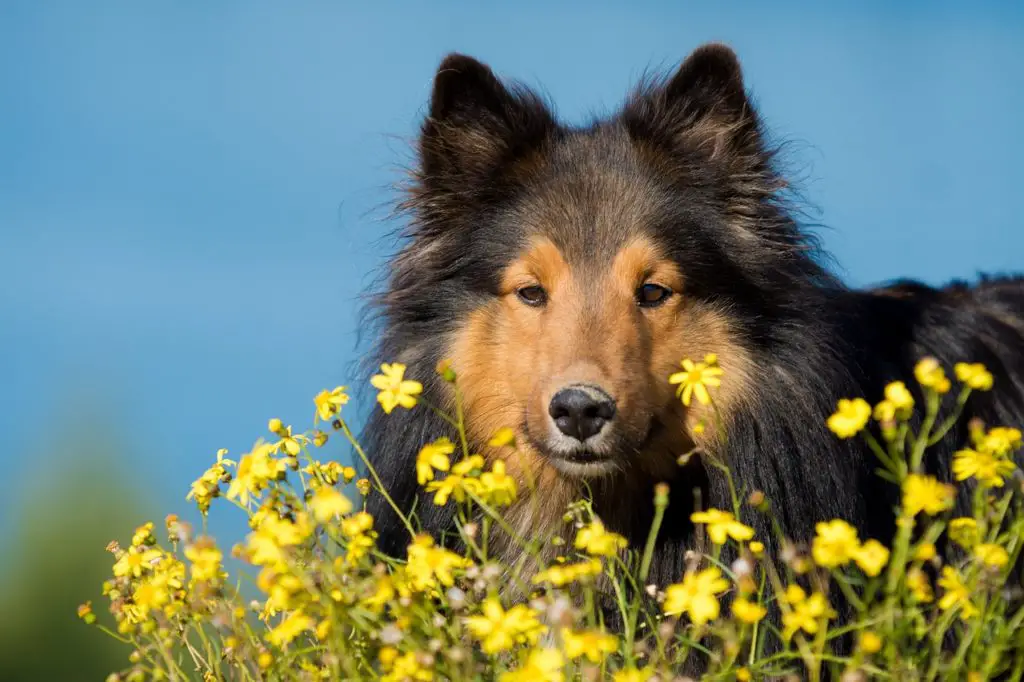 The popular flower dog names are the ones that are used more often to name dogs. They are common but catchy at the same time. They include:
Azalea

Aster

Begonia

Blossom- this has some deeper meaning. It shows prosperity

Bluebell

Buttercup

Calla

Calla

Camellia

Camellia

Carnation

Clover

Daffodil

Dahlia

Dandelion

Elm

Fleur- this is a French name for a dog meaning flower.

Freesia

Garland

Holly

Honeysuckle

Hyacinth

Iris

Jasmine

Lavender

Lilac

Lotus

Magnolia

Marigold

Mimosa

Orchid

Pansy

Petal

Petunia

Poinsettia

Poppy

Posey

Primrose

Rhodie

Rhododendron

Rose

Sunflower

Tansy

Thistle

Trillium

Tulip

Violet

Willow

Wisteria

Zinnia
Unique Flower Dog Names
For those people who prefer names that are unique and hard to find with other dogs, A name that makes your puppy stand out, here is a list for you.
Admon– this is a Hebrew name meaning the red peony flower.
Coreopsis– This is a flower that attracts butterflies a lot, it is brightly colored.
Jared– a Hebrew name that means the rose flower.
Niraj is the lotus flower in Hindi
Palash– A name from Hindi meaning a flowering tree
Smadar means blossom in Hebrew
Thorn– this is a unique name that symbolizes the protectiveness of thorns on most flowering trees.
Zahur is an Egyptian name that means flower.
Thalmus means bloom in Greek. It is a unique name
Snapdragon. This is a flower that resembles the head of a dragon
Sage– this is a plant that is used medically. It is of the family of the mint tree.
There is my list of 160+ flower dog names that can suit your dog. Choose the one that suits the character of your dog.
Save this pin for later into your dog or pet board.