Getting names for pets is always a task, especially when your pet is an owl. The right name should reflect a lot of the pet's character. For an owl, you need to think a lot because once you give your Owl a title, it will be hard to change it. They are not easy to train though they are intelligent. Therefore, be sure of the name you choose. Do not get troubled with this because today, I will help you get a perfect name for your Owl, whether male or female.
When finding the right name for your pet, there are some essential questions you need to ask yourself. 
What is the gender and personality of the Owl?
So, is your pet owl a male or a female? Gender is the first thing you should get out of the way. It is easy to find out. Most female owls are more weight than males. It's not always the case, and we need to be sure. So. For certainty, the female Owl has a streak extending from the neck along the sides of their head. The color of the Owl also says a lot when it comes to gender. The male has a white throat while the female has a brown throat. These are some of the differences among many more that you can look at to know the gender of your Owl.
The next thing to find out is the personality of the Owl. 
What character does your Owl portray? Does the bird seem to judge you, make some funny faces, look through your soul? These are some of the things you should pay attention to, to get an excellent name for your pet. That being out of the way, let us look at some names for owls based on gender and character.
Best Owl Names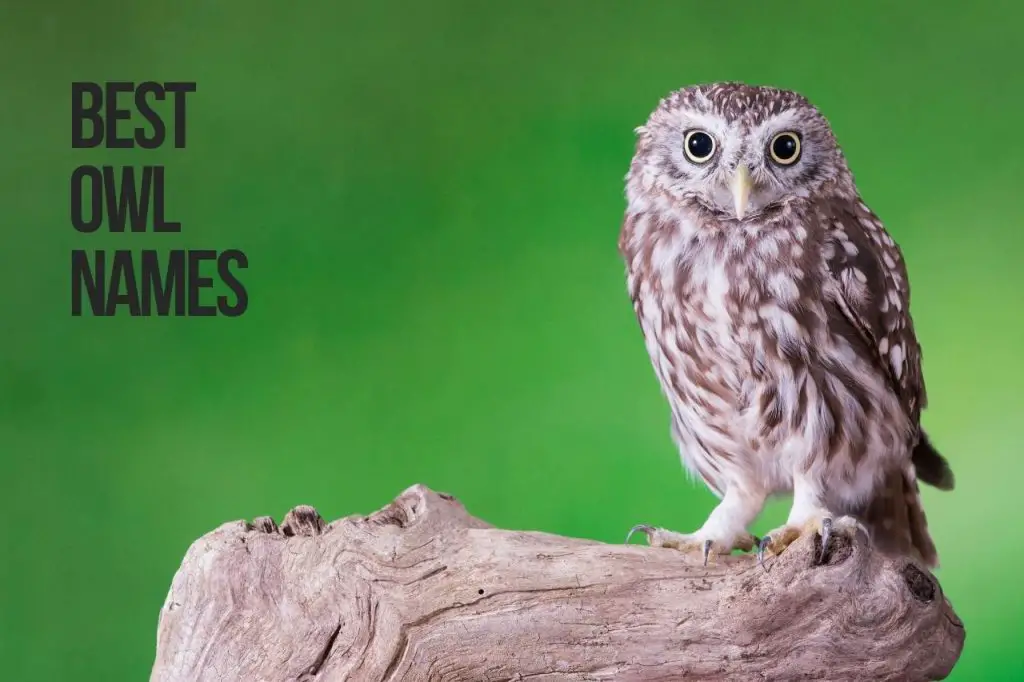 Here is a list of best owl names. They might work for your Owl. Try them out: 
Finn
Hermes
Hedwig
Ulysses
Snowy
Smartie
NightWing
Dexter
Winky
Boo
Barney
Hootie
Axl
12 Funny Pet Owl Names
Here is a list of funny owl names:
Spooky Owl– Choose this one if your Owl is that stone-faced and Always creepy.
Owlfred Hitchcock– This one is also great if your Owl seems spooky and always serious.
Owlbama– On the political side, this is an excellent name if you notice some political mind
Colin P'Owl– This is also a great name he is into politics.
Hootie– This is funny when you think about it. An owl hoots hence the name Hootie.
Owlbert Einstein– This one is for the geniuses. If he's got that look of intelligence, this is the name. Generally, owls are said to be intelligent.
Jimmy Tallon– Hahaa, this one got me. Who has never heard of Jimmy Fallon? It is an excellent name for an owl.
Owlf– You should probably consider this one. It's simple and somehow funny.
Agent owl-Anof– Is your bird into tricks. Maybe this is the name you have been searching for.
Dr. Whoo– Owls are noisy for sure. Maybe this name may reflect that.
Blinky– Considering that owls do not blink, you might use this name ironically.
Whoo-Dini– This is a creative name taking into account the sounds they make and the old magician 'Dini.' This name brings out the creepy nature of owls.
Cute Pet Owl Names
Go through this list of cute owl name. You might just be lucky to find cute names for owls.
Weebles

Winky

Dixie

Buttons

Snowflake

Barney

Billie Jean

Chipp Owl

Chirpy

Boo

Cuckoo

Duchess

Cinco

P'Owl

Cliff

Hootin

Fozy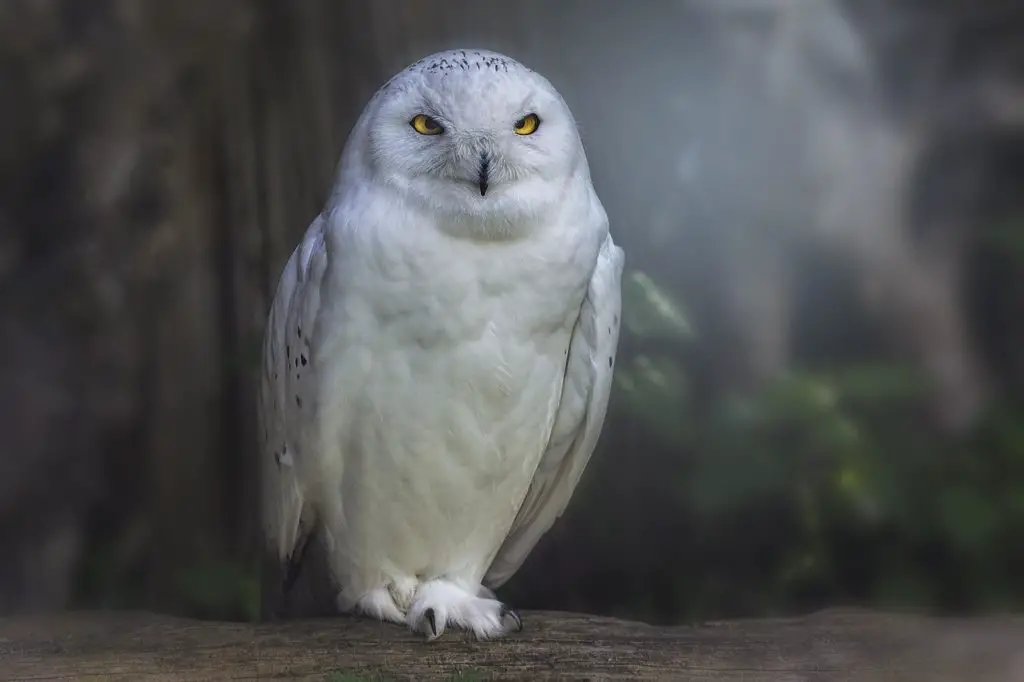 Cool Owl Names
Below is a list of cool names for owl that might suit your Owl's personality.
Charc'Owl

Barney

Pudge

Hootee

Merlin

Owlbin

Owl Capone

Farley

Omega

Owlton

Whootie

Sparkles

Marsh

April
Good Owl Names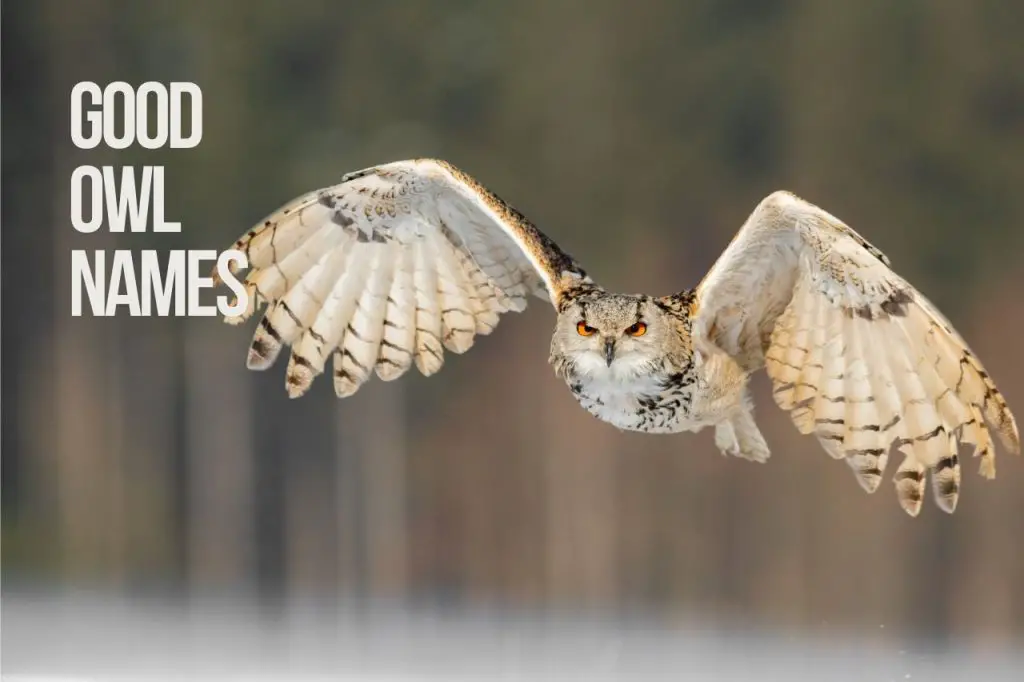 Kacooo

Huey

Bubo

Slam

Ulala

Wisdom

Ophelia

Owlvira

Mahatma

Poof

Mowat

Azore

Leopold

Vincent
Unique Owl Names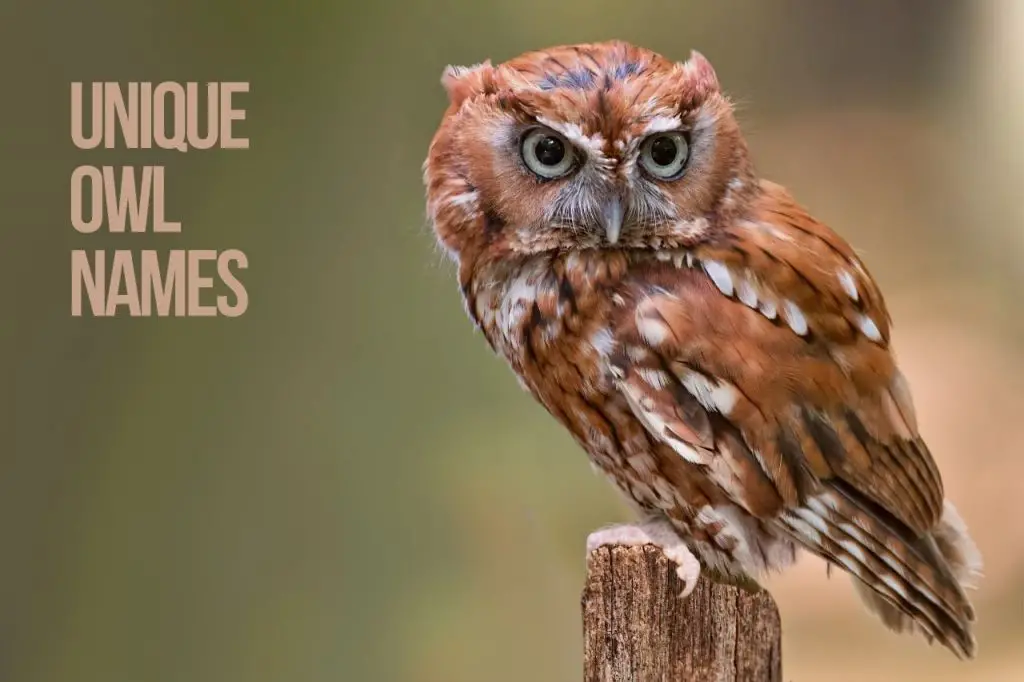 Winky
Maki
Hedwig
Owlbama
Zira
Hootie
Whoo
Hoo-Dini
Shiva
Owlette
Winky
Errol
White Owl Names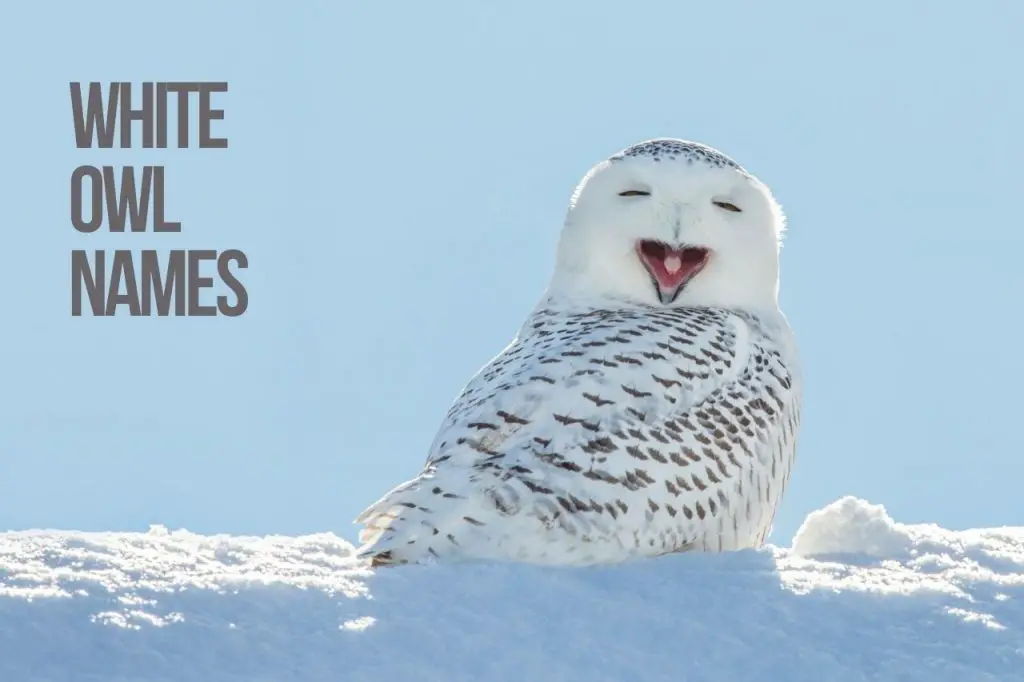 Great names for snowy owl
Alpi
Snowy
Sparkle
Puff
Alaska
Alba
Frostine
Snowflake
Blizzard
Harmony
Dove
Angel
Aspen
Cotton
Lilly
Coco
Pearl
Elsa
Puro
Fantasy Owl Names
Draco
Bastian
Arya
Renesmee
Ibid
Elvis
Cinco
Erwin
Zeke
Foxy
Famous Owl Names
You must have heard of these names in some tv-show or something. They are great for your bird.
Owl from Winnie the pooh

Woodsy Owl

Hannibal

Mr. Schuhu

Robert from Twilight

Chandler from Friends

Glimfeather

Soren

Mr. Know it Owl

Owlboy

Kaepora Gaebora

Sammy the Owl

Doyle Owl

Oliver

Big mama- The Fox and the Hound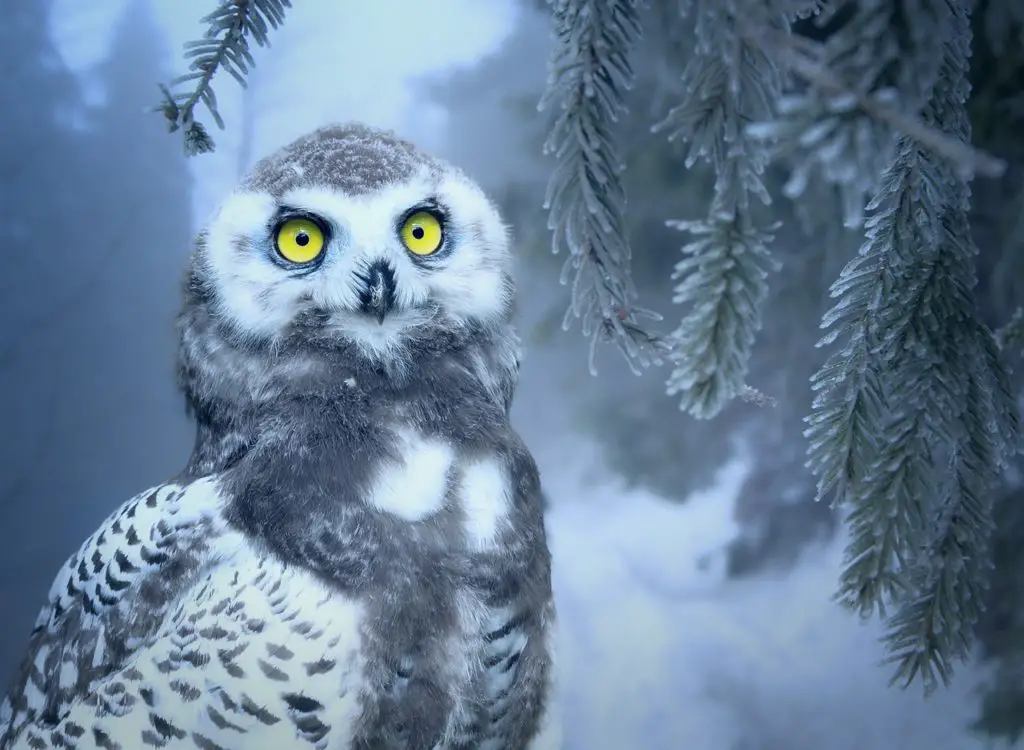 Snowy Owl Names
Your Owl's coat should also play a part in the naming. If the Owl has a pure white coat, here are some names to reflect that.
Icelynn

Alp

Alaska

Blizzard

Frostine

Alba

Snowflake

Lilith

Zephyr

Umbra

Snowy
5 Pet Owl Names Inspired By Movies And Animations
Errol from Harry Potter
Hermes from Harry Potter
Archimedes from the Sword in the stone
Dexter from Winnie the pooh
Pidwidgeon from Harry Potter
Deacon from The rescuers
Pet Owl Names For Males 
Is the gender male? Great boy names for the owls! Here is where you should look for a great name.
Edmon

Powell

Otis

Attkins

Ace

Bert

Fresco

Duke

Clifford

Jackson

Anthros

Pietro

Elvis

Ollie

Erwin

Jude

Roamie

Galen

Odus

Zeus

Achilles

Screechie

Kruso

Fester

Chester

Dr'owl

F'owl
Pet Owl Names For Females
If the Owl is feminine, here are some great suggestions for female owls.
Hazel

Elara

Leda

Nascha

Rign

Abbey

Lila

Bea

Lace

Sitara

Andromeda

Helene

Delilah

Stella

Lilith

Lyra

Cyra

Vesper

Meissa

Odette

Carina

Callisto

Titania

Esther

Vega

Ismene

Amaia

Estella

Sidra

Callisto
Owl Names Girl
Raven
Izzy
Stella
Tiny
Linnet
Maggie
Abby
Faith
Zuzu
Angel
Button
Candy
Oxo
Tootsie
Bonnie
Hermione
Bugsy
Kelly
Zoe
Betty
Cody
Roxy
Lilith
Odette
Grace
Winky
Shiro
Goldie
Pixie
Rosy
Holly
Talia
10 Superhero Pet Owl Names
If you love comics, here are some cool superhero names that you might love for your Owl.
Vision

Spidey

Supergirl

Nightwing

Daredevil

Batman

MODOK

Phantom

Blue Ear

Wonder woman.
Owl Names In Mythology
Here are some names for owl names in mythology. Find one that you like.
Owl of Athena

Noctua

Albertine

Lechuza

The Owl of Lakshmi

Blodeuwedd

Chikap-Kamuy

Arianrhod

Kotan kor Kamui

Ascalaphus
Japanese Owl Names
Fukurou -Owl

Aura-

Haru

Taiki-shine

Kaoru-fragrance

Takahiro – nobility

Aki – autumn

Hideki-trees

Kaede-maple

Kyo-cooperation

Ryo-cool

Masato-righteous

Tamotsu meaning protector
Celtic Owl Names
Finn

Conan

Gallagher

Flannery

Murphy

Finnegan

Liam

Charm

Cabbage

Boxty

Goldy

Leprechaun

Rainbow

Celt

Dagda

Puca

Shandy
Greek Owl Names
Apollo

Alexis

Agora

Baklava

Cassia

Aura

Delphi

Deka

Chaos

Athena

Homer

Gyro

Fage

Hera

Dogma
Names for an owl
Kudos

Melina

Nyx

Oracle

Ouzo

Olimpia

Owl Names in Harry Potter
A lot of owl breeds were shown in Harry Potter books like the eagle owl which was owned by Draco Malfoy or Harry's the Snowy Owl or Ron's tiny owl Pigwidgeon.
Below you can find the names of owls from Harry Potter books:
Hedwig
Errol
Scops
Brodwin
Pigwidgeon
Pig
Hermes
Malfoy's Owl
Percy's Screech Owl
RELATED QUESTION:
What Is A Good Name For An Owl?
There are several good names for an owl. However, The right name should put into consideration the gender and the personality of the Owl. You should not forget to keep the name short and sweet. That way, it will be easier for you and the bird.
What Should I Name My Harry Potter Owl?
Hedwig! Harry Potter, the movie has some great names you can use for your Owl. You should just get one that makes you happy. Some good examples are Hermes – Percy's Screech-owl, Errol, Malfoy's Owl – Ulysses, Brodwin, Pigwidgeon, and Hedwig.
What type of owl is Hedwig in Harry Potter?
Hedwig – Harry Potter Owl is the Snowy Owl, also known as the Ghost Owl.
Is Hedwig A Girl?
Hedwig was Harry Potter snowy owl, probably a girl considering that the name Hedwig is a German feminine given name. It can be an excellent name for your female pet owl. Give it a try and see if you like it.
In conclusion, we have looked at some great names for pet owls. Make sure to choose the right one. Owls are intelligent, but training them is never easy. They just enjoy peering through your soul and making judgments lol. If they could speak, maybe they would tell you all that you think. It is not easy to control these birds, so be sure of the name you pick. Once they get the name, it will be hard to change it.
Save this pin to your pet-related board on Pinterest.