The Japanese have periodically grown their love for dogs. During the 2nd World war, all imperial nations brought along with the dogs. And, just like the human world, the western breed was seen as far more prestigious than the local breed. Pet ownership was more of a community function than a family function. The elevation of national breeds is owned to the first loyal national breed, Hachiko. Hachiko, looked more like a mongrel had floppy ears, and resembled a Chinese lapdog. Every day, Hachiko would meet his master in front of Shibuya Station and kept coming nine years after his master had passed on. This was indeed an unwavering symbol of loyalty and service to his matter. In his own, a statue was built in his honour outside Shibuya station, which serves as a great meeting spot for the next time you are in Japan. The Japanese fascination with dogs is now long-standing as it has seen them incorporate these pets as family members. It is surprising how the Japanese now treat these indigenous dogs as their children.
JAPANESE DOG NAMES FEMALE
In Japanese culture, the Ideal female is seen as one who is gentle, kind and loving. Females associate themselves with class, elegance and resonate with being heart-warming. Female dogs tend to be more connected to their owners and quite easy to train. It is therefore very likely that the names a female Japanese dog may have are those that show emotion, affection or feeling. Names like;
Hana
Hiro  
Hitomi
Nao
Kuro
Kasshoku
Chie
Ayako
Chiharu
Eiko
Aina
Amikyo
Kotone
Mana
Mao
Usage
Yasu
Teruko
Ume
Ryoko
Shika
Saki
Yuko
Jun
Kaori
Honoka
Kazue
Junko
Ayame
Akemi
Chika
Haru
Hina
Hiro
Izumi
Kamiko
Kokoro
Mai
Makoto
Mami
Mi
Mei
Miho
Noa
Riko
Ran
Sakurako
Shinju
Mayu
JAPANESE DOG NAMES MALE
On the other hand, Japanese males are seen as symbols of honor, loyalty, and a strong heart. Male dogs tend to be more territorial and dominant. Male dog names can be harder to find. What we look to give must be a name that's boyish, tough, unique and definitely stands out. A male dog name must be able to show its territory. A territorial dog shows sign of a lot of barking, growling or snapping which a signs you shouldn't miss out while naming your male pet dog. Good examples of male dog names are:
Isamu
Masaru  
Sentaro
Seiji
Naoki
Takuma
Minoru
Kiyoshi
Arata
Kohaku
Sora
Noboru
Riku
Shin
Yasu
Katsu
Daiki
Hibiki
Ryou
Yuu
Yuichi
Toshi
Taro
Takao
Souta
Sho
Saburo
Ren
Nori
Masa
Madoka
Kenta
Ken
Kaito
Juro
Isao
Ichiro
Hiroki
Hideo
Goro
Eiji
Aoi
Daisuke
Daiki
Haruo
Hinata
Hisao
Kunio
Michi
Shigeru
Tomio
Tsuneo
JAPANESE PUPPY NAMES
During puppyhood, dogs display a lot about their personality. Some love to sleep all day. Others are just too playful. It is therefore recommended that before giving a puppy the name, watch its character for a few weeks. Look out for any unique features that it has. This could form a basis for the Japanese name that it will have to bear all its life.
After great consideration, whatever name you consider should reflect the Japanese culture of loyalty and honor. These are traditions that they seek to protect and maintain as evidenced by their noble character, architecture, and poetry. Some beautiful Japanese puppy names include
Boki
Kona
Jiro
Mitsuki
Shogun
Vethoben
Chiyo
Amaya
Momo
Megumi
Tadao
Wasabi
Choco
Maron
Lucky
Koro
Crea
Mocha
Kou
Hisoka
Mitsuru
Sora
Nao
Shig
Nobu
Tatsuo
Gina
Hiroma
Chouko
Fuyu
Mana
Miki
Kimi
Kenzo
Choosing Japanese Dog Names
You can be assured no other dog will have a similar name to yours if you give then a Japanese name. Japanese dog names are both unique and meaningful. What makes them unique?
Well, the Japanese while giving their pets names lookout to maintain novelty and authenticity in the name. Giving these pets names that relate to our culture and us gives them a sense of family. The names are a reflection of cultural trends and what people believe in.
Secondly, before closing in on a name for your new best friend, find out what it means and how to pronounce it. You might have a cool name but the pronunciation makes it sound weird or the name itself might just be weird. Take time. Consult on its meaning. Save yourself the embarrassment you might face explaining why your newly found dog has a name you don't understand.
Thirdly, consider looking at the unique features of your dog. Study it to discover what makes it so unique to you. What do you like about its personality? This name should not be one that sounds more like a command as the dog may find it very difficult to tell if you are addressing it or otherwise. Get a name too, that grows with the pet. We agree you cannot keep calling a 7(seven) year old dog 'puppy'. Give a name that speaks to you and your pet.
JAPANESE DOG BREEDS
Japan has not been left behind with its wide selection of dog breeds. Due to a lot of exposure, Japanese dogs have become the best-preferred dogs around the world. The distinct feature of a Japanese Dog is the pointed ears and tails that face upwards. Below, are some of the Japanese tops breeds dogs;
Japanese Akita
The Akita is largely referred to as a great Japanese dog. This is one of the most intelligent and loyal service dogs you will find. The Japanese Hachiko was definitely one of this. During the World War II American servicemen became very fond of this breed, thus it became very established in the country, His Brave personality and affection to the family make him a mans best friend. You will not miss it in many colours ranging from black, white, red or sesame with a course straight coat and soft undercoat. Its lifetime is between eleven (11) to fifteen(15) years.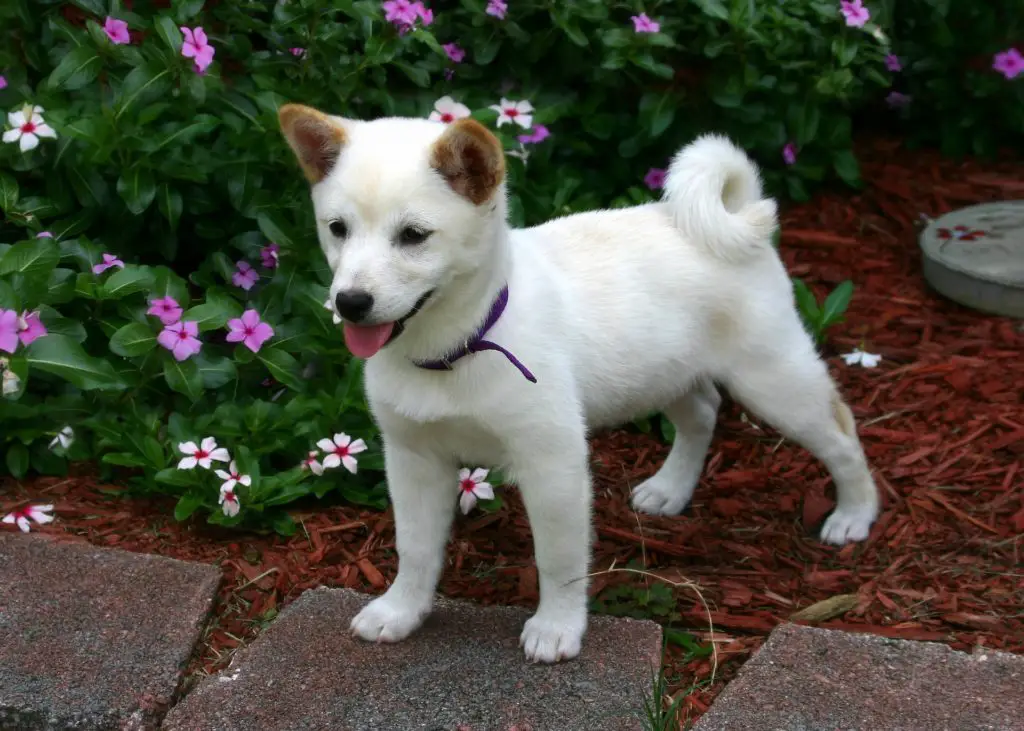 Shiba Inu
This Japanese Breed is believed to have been around for over 3000 years. It serves the owner best as a hunting dog and can hunt anything from a bird, small game animals, deer, and bears. One of the small Japanese dogs in size, you would easily mistake it for the Akita. It stands out as one of the most intelligent and independent dogs. Life expectancy to ranges from twelve(!2) to Fifteen (15) years.
The Japanese Spitz
This was a creation that resulted from crossbreeding a number of spitz breeds. It is a very inquisitive dog but also known for its activeness, courage, loyalty, obedience, affection, devotion and loyalty. You would not miss it as it is one of the Japanese small dogs, with a deep chest, covered in a very thick pure white double coat and a fairly long tail. Its lifespan is anything from twelve (12) to sixteen (16) years.
The Japanese Chin
This dog is ranked among the highest class of dogs, as it is used by the highest social circles in society. It is believed to have originated in China Korea but made popular in Japan. It's generally small and weighs less than ten (10) pounds.
The Tosa Token
This cute breed of dog was bred originally in Tosa as a fighting dog. This is a rare breed with very short and smooth coat, often found in colours red or tawn, Just like the spitz, it is a result of crossbreeding between shikoku-inu and European breeds.
Shikoku-Inu
The Shikoku Inu stands out as a nature lover. Its cautious and brave while very loyal to the owner at the same time. They have a high prey drive so they cannot be trusted with any non-canine house-hold animals or let them out to run around freely. They do well with exercise walk or jog everyday but love quiet indoors.