Goats are vibrant animals that you will not get bored watching them climb over surfaces and jump from one corner to another. Due to their overly active nature, people will think that these creatures need a large space in order to keep them as pets, which is not the case. Without a small space, you can choose to rear the small goat breeds. Unlike other pets like dogs, birds, and cats, these animals come with other merits. You get a wonderful companion from them as well as healthy meals like milk and cheese. 
When you bring a goat, or any pet for that matter, into your home, it is only fair that you make them feel like a part of the family. Giving your goat a pet name not only means that you have treasured them, but it also helps to bond with them. Some people would find it funny naming a goat due to the mentality that goats not intelligent and therefore will not learn their names. This is not the case. Goats are smart and continuously calling them by their names and with training, they are definitely going to learn their names. 
Best Goat Names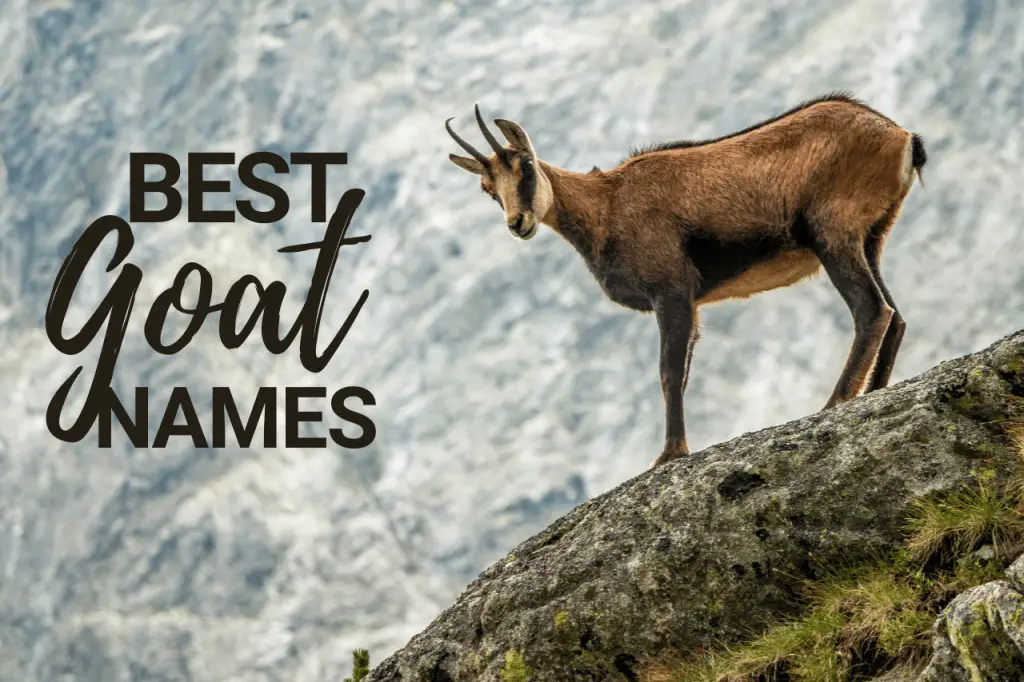 Billy

Nanny

Grover

Maple

Pan

Lambert

Bo Peep

Ramsey

Wilson

Goatsy

Ziggy

Koko

Bossy

Remy

Hazel Lorraine

Daffodil

Fuzzy

Satyr

Gandalf

Princess

Tony

Charles

Tara

Sassafras

Reed

Wilder
George
Lorraine
Daisy
Snowy
Smokey
Snowball
Dumbledore
Top 10 Goat Names
If you are a movie, cartoon, or anime lover, you have certainly heard one or all these goat names. You can definitely use them on your goat pet
Gruff

Lupe

Soothsayer

Grover

Philoctetes

Jeb

Morgan

Gompers

Pleasant goat

Mr. Tumnus
Cute Goat Names
One of the names from the list below will suit your cute and adorable your kid running up and down your compound 
Boo

Swifty

Clover

Pecan

Hershey

Pinecone

Spook

Giggles

Spot

Sunny

Juniper

Pumpkin

Speckles

Donut

Cookie

Olive

Radish

Butternut

Sprout

Pudding

Cosmo

Heinz

Cricket
Funny Goat Names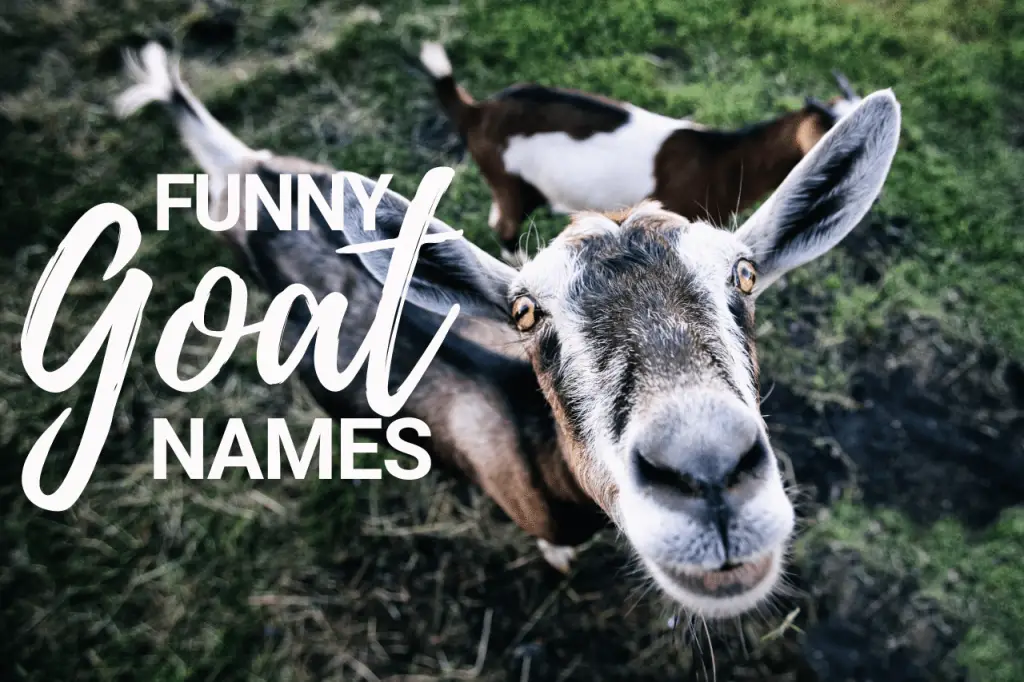 If you are looking for a funny name for your goat pet, this list should help you;
Zygoat

Goaten

Jerky

Kid

Kebob

Goatzilla

Milkman

Scapegoat

Butt

Satyr

Tin can
Girl Goat Names
Rue

Parsley

Stevia

Yarrow

Wallow

Tansy

Laurel

Ginseng

Fennel

Basil

Mona

Mickey

Snowy

Snow white

Merida

Tiana

Maui

Hercules

Minnie

Jessie

Dale

Maple

Spruce

Tupelo

Birch

Alder

Magnolia
Boy Goat Names
If you recently brought a boy goat to your home and are finding it difficult to get a suitable name for it, pick one from this list;
Hank

Rupert

Joey

Woody

Arthur

Grover

Gilbert

Edgar

Ralph

Scruff

Homer

Sammie

Leonard

Finn

Beau

Joker

Tobias

Phoenix

Pogo

Rocco

Jasper

Frances

Toby

Angus

Milo
Mountain Goat Names
Peak

Alaska

Ridge

Glazier

Alps

Ande

Knoll

Meadow

Summit

Everest

Matterhorn

Mounty

Dike

Ledge

Thunder

Climber

Alberta

Montana

Cascade

Stepper

Surefoot

Atlas

Boulder

Pinnacle
Farm Goat Names
Ellie
Gabby
Remy
Hazel
Amber
Shadow
Sandy
Fluffy
Curly
Bruce
Gary
Koko
Bossy
Marigold
Tony
Tara
Clover
Inez
Zora
Male Goat Names
Miguel

Colonel

Baxter

Roger

Turbo

Barry

Dodger

Jethro

Buford

Smalls

Buckley

Gordie

Gary

Peabody
Female Goat Names
With a beautiful young goat in your compound, it is not fair that you have not picked out a name for her yet. Use our list to get the most beautiful female goat name for your pet.
Dixie

Flora

Goldie

Millie

Fawn

Opal

Gwen

Maiden

Heather

Bonnet

Ida

Maxi

Jean

Jasmine

Sky

Lily

Nanny

Gabby

Irma

Petunia

Linda

Polly

Charlene

Star

Iris

Sabrina

Jolene

Barbie

Betsy

Sally
Baby Goat Names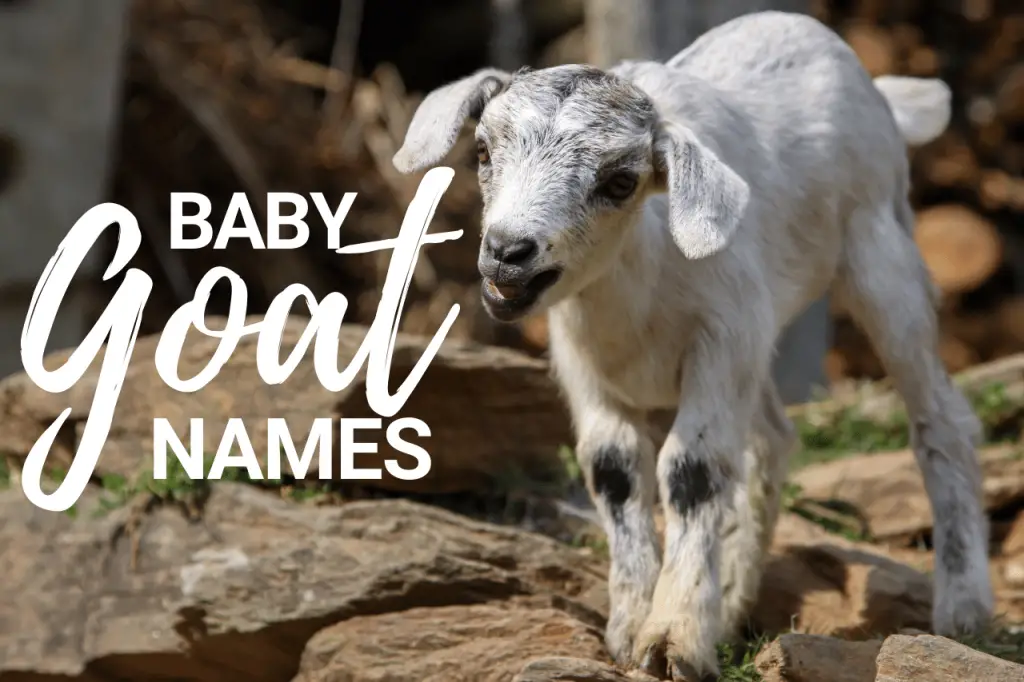 You are not doing justice to your young beautiful and adorable kid if you have not picked a name for it yet. Here are some baby goat names that you pick from.
Fir

Aspen

Oak

Cedar

Daisy

Elena

Elsa

Goofy

Chip

Anna

Belle

Woody

Tinker

Pinocchio

Mulan

Stitch

Winnie

Pluto

Dill

Bay

Aloe

Catnip

Cayenne

Chives

Ginger

Nettle

Mint

Sage

Stevia
Tips to use when naming your goat
Picking names for pets can be straightforward for some and quite challenging for others. Whether you have a goat at your compound or are thinking of getting one, these tips will definitely help you get a name for them.
Use a famous name
Get your goat pet a name from a famous pet. Names like Benji and Rover are well known pet names for historical pets. Pick one for your pet and who knows? Maybe your pet will live to be remembered.
From the pet's character
Many pet owners have used this method. Observe your pet for a while and learn its most attractive feature or character and name them after it. For instance, if you own a white goat, you can name it Snowy or Speedy if it is fast.
Choose names with a hard consonant sound
Names with hard consonant sounds are easy for the pet to learn and even hear when they are being called compared to names beginning with a vowel. Names beginning with letters like B, T, D, K, and S should be considered the most.
Pick a short name
A name with one or two syllables is the best. They are easy to learn and also brings out some authority in them. Such names include Pickle, Cookie, and Cosmo.
Source from the internet
The Internet is the source of all information you need. You do not have a name in mind, the internet will never disappoint you. All you need to do is type in your search and relax and wait for the results.
Things to avoid when naming your goat
Be careful not to give your goat pet a name that sounds similar to that of a command. Names sound similar in their pronunciation with names like sit, eat, sleep, no, should be avoided. It is always nice to give your pet a name that has a positive meaning or associated with their likable behavior. some names will portray hate or disliking towards the animal.
Best goat breeds to keep as pets
Pygmy
Pygmies are the commonest goat breeds kept as pets in the world. They are friendly and very likable animals which thrive in almost all climates. Their erect ears and medium-sized hair on their coats bring out all the beauty in them. They come in different colors and can have caramel, black, and agouti patterns.
Mini Toggenburgs
This is the oldest goat breed in history. They are mostly brown in color with some white strips on either side of their face, tail knees, and below their hocks. They are making very good pets and would not get bored spending time with a herd of this breed.
Mini myotonic
This goat can grow to be up to 25 inches tall and 150 pounds heavy. They mostly come in white and black colors but also have other color markings and patterns too. They are friendly and also to keep pets which makes them common pets in many homes. Unlike other gats, they are kept for their meat and not the milk. Read more here.
Nigerian dwarf
Nigerian dwarfs are reared for their milk and meat, which tend to be more nutritious compared to that of other breeds. They are beautiful and intelligent pets with medium-sized erect ears. They are fairly tall at 17-22 inches and weighing about 80 pounds.
Mini alpines
Mini alpines are 30 inches tall and are adapted to thrive in any climate. They might have a white neck or have grey or black markings on their heads. Their heavy milk production is what makes them popular in many homes. With proper feedings, these goats can produce up to 2400 pounds of milk annually. They are friendly and quite hyperactive and therefore need a bigger space to survive.
Save this pin for later on your goat's related board!